By: William Douglas | NHL
Most Americans visit France for its culture and its cuisine.
Noa Diop went for hockey.
The 15-year-old defenseman from Chicago journeyed to France to play last season at Pôle France Féminin, the women's national training center outside of Paris.
She enrolled to chase her dream of playing for France's women's national team program and eventually representing the country in the Winter Olympics.
"I was in an academy with a bunch of France's strongest players, so it was extremely demanding," Noa said. "I thought it would be a really great opportunity and be extremely fun to live over there for a year and be able to play for the national team and hope to go to the Olympics."
Noa left Chicago for France in August 2022 when she was 14 and returned in mid-June. She'll return to France this week to play in a four-nations tournament against Hungary, Italy and Slovakia at Vaujany in the French Alps from Nov. 9-11.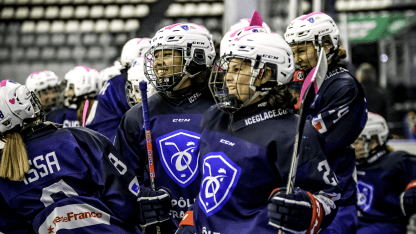 © Bruno Gouvazé
She hopes the tournament and her work at the training center will earn her a spot on the French team that competes in the IIHF Under-18 Women's World Championship Division I, Group A in Egna, Italy, from Jan. 6-12, 2024. France will face Austria, Denmark, Hungary, Italy and Japan in the tournament.
"I'm keeping in contact with the U18 national coach and the academy coach in case they need any film or whatever," she said. "In the United States, I'm practicing with my club team very frequently and we have tournaments very often, so I'm able to prepare and keep up my skill level with them."
Noa, who received a $3,000 scholarship from the Black Girl Hockey Club in Fall 2022, plays for the Windy City Storm's Under-16 girls' team in Chicago.
To become eligible to play for the French national team, she had to relocate there to comply with International Ice Hockey Federation requirements for women's players who change or acquire another citizenship and want to compete for the first time in IIHF competition representing a new country.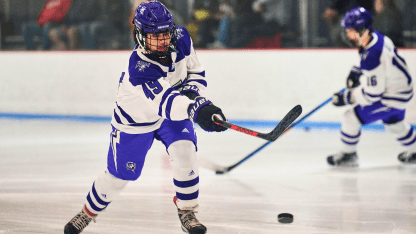 © Grotto Photo Company
Under IIHF rules, players must have participated on a consistent basis for at least one hockey season and been a member of their new national association for at least eight consecutive months (240 days) during that period.
Sebastien Roujon, the women's national training center coach, said Noa was a welcome addition to the training center and left a positive impression on her coaches and teammates.
"She has hockey sense, she's very aggressive, she wins puck battles," Roujon said. "Her competitiveness is unbelievable."
In February, Noa was awarded the academy's Marion Allemoz Trophy, presented monthly to the player who demonstrates the best attitude and work ethic on and off the ice.
The award is named in honor of Allemoz, a longtime captain of the women's national team and the first French player to play professional women's hockey in North America as a member of Les Canadiennes of the Canadian Women's Hockey League from 2016-18.
"During the month of February, in addition to contributing to the first victory of the French U16 women's team against Hungary, Noa demonstrated all the qualities of a high-level player, while keeping a broad smile," former training center manager Jean-Baptiste Chauvin said. "If she continues to work … Noa will surely become a respected player for the French teams."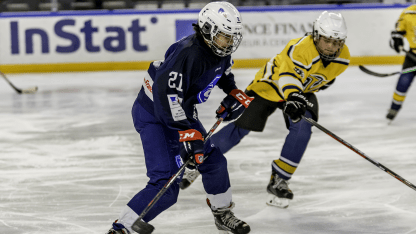 © Bruno Gouvazé
Noa's love for France stems from her family background. She is a dual U.S.-French citizen via her father, Ibrahima Diop, who has Senegalese, French and U.S. citizenship, and her mother, Natalie Kissinger, an American from Wisconsin.
Noa attends a French international school at home and speaks the language fluently. Still, the decision to let her play in France initially wasn't an easy one for her parents or training center officials.
"I mean, Noa's my first-born," Diop said. "Initially, we tried to move there, but the logistics were very difficult. I wanted to make sure she was safe — mom and dad were not going to be around the corner."
Training center officials wondered how an American player would adapt to playing and living in a foreign country.
"It's not every day that you receive a call from an American mom saying, 'Look, my daughter has both nationalities, and she wants to play for France,'" Chauvin said.
"Usually, they want to play for USA Hockey, we understand that. It was a little bit surprising, but once you know Noa and Noa's family, you understand that France is really important to them."
Noa confessed to a bit of homesickness when she first arrived at the center, but it quickly faded, replaced by the excitement of experiencing something new.
Her parents' concerns faded as well, eased knowing Diop has relatives in Paris that Noa could visit.
"It was actually a great opportunity for her to get to know them better," he said. "We were able to host Thanksgiving there last year, so her French cousin experienced an American tradition there."
As Noa chases joining the French women's national team, she's hoping it qualifies for the 2026 Milano-Cortina Olympics. France is currently 13th in the IIHF women's ranking.
"It would be an amazing opportunity to play in the Olympics," she said. "And the location itself is a dream location that I've always wanted to go to. To go play there and play the sport that I've loved since I was 7 years old would be wonderful."