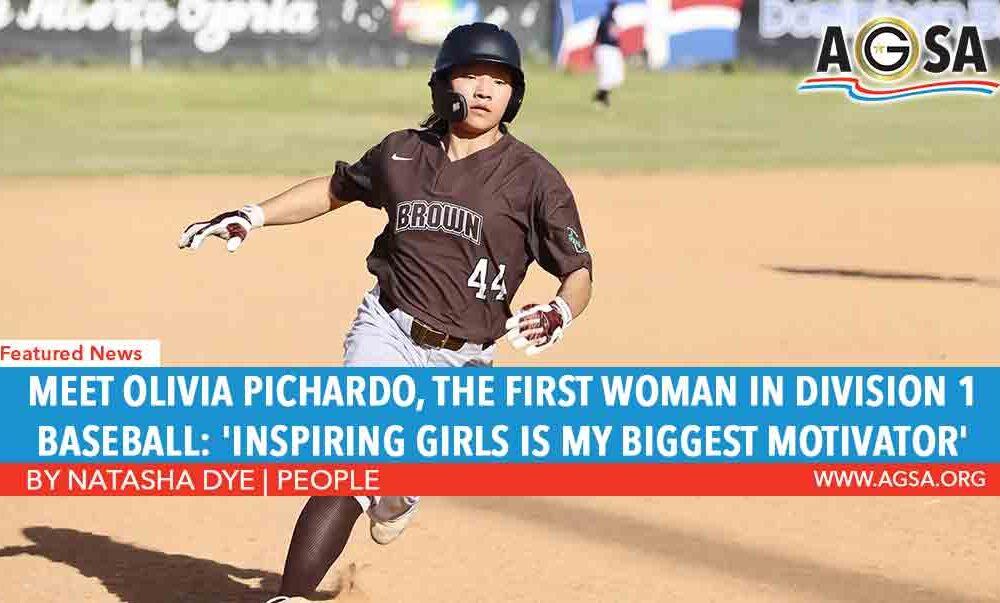 By Natasha Dye | People
In November, Olivia Pichardo's dreams came true. After weeks of tryouts — preceded by years of practices and games and time spent throwing a ball with her dad — the 18-year-old athlete earned a spot on Brown University's baseball team, making her the first woman to play for a Division 1 varsity college baseball team.
On the last day of tryouts, Pichardo sat among rows of male hopefuls in an auditorium at Brown, eager to learn if she made the cut.
That's when Head Coach Grant Achilles delivered the best news of her life: "Olivia, thanks for joining us for the Fall and officially for the Spring."
Everyone clapped for Pichardo, a pitcher, as she lit up with a smile, displaying the "quiet confidence" — as her mother Maximo calls it — that wowed Bears leadership. "I've always set a standard to perform at a certain level for every single game," says Pichardo. "Throughout my life, I've had pretty high expectations for myself."
It's a drive that began developing at the age of 6, when Pichardo made her Little League debut in her hometown of Queens, New York.
But in those early days, baseball was just an excuse to have a good time with her father Max, who volunteered to be a coach on all her teams. "He grew up playing baseball in the Dominican Republic," she says. "He helped me develop a love for the game rather than developing all of the technical skills, because at that age it's mostly about having fun."
Pichardo says the fun of baseball temporarily faded at the age of 14, when she started "getting insecure about being a girl playing baseball," while others switched to softball.
Participating in baseball camps sponsored by MLB and USA Baseball helped her overcome the discomfort. "That was a big motivator for me to keep going," she says, "and not really care about what other people might have to say about me."
After finding success at the MLB Breakthrough Series and an MLB Grit event, she made the USA Baseball Women's National Team at just 18, playing as a right-handed pitcher and outfielder last summer.
Hustling on the global stage made her even more determined to find a university where she could continue pursuing her passion. "I knew that I wanted and could play college baseball," she says, "but the problem was finding the right school that fit me academically and where I would join the baseball team."
The perfect place turned out to be Brown, the Providence, R.I. Ivy League university where she became just one of the 5.5% of applicants to be accepted into the class of 2026, partly thanks to her impressive 5.2 GPA.
Receiving her acceptance letter was "a happy moment" for Pichardo, who says Brown was her mother's top choice. "She cried when I got in, which made me uncomfortable," she says, laughing.
As Pichardo began her studies last semester, she signed up to try out for the baseball team as a walk-on. Heading into the audition, she was confident in her ability to stand out. "I've always been able to not only just keep up," she says, "but also excel." Now she feels like just another one of the Bears. "My teammates treat me like they would each other, which I appreciate," she says. "It's all I could ask for."
Currently, she's leaning towards a major in business economics "because it's a versatile degree" that will give her options if she doesn't go pro. "I'm thinking about maybe pursuing an MLB front-office job one day," says Pichardo, who became fascinated with the "behind-the-scenes" of baseball as an intern with the New York Mets last Spring.
But for now Pichardo is focused on the upcoming season, kicking off Feb. 24. against the Memphis Tigers.
Her preparation has included reading Training Camp by Jon Gordon, a mandatory assignment for the Bears that encourages baseballers to find "something outside of yourself to play for," she says.
When Pichardo hits the field, she'll play for the next generation of female baseball players. "When I was little, I didn't know there were other girls playing baseball," she says. "Inspiring girls is my biggest motivator."