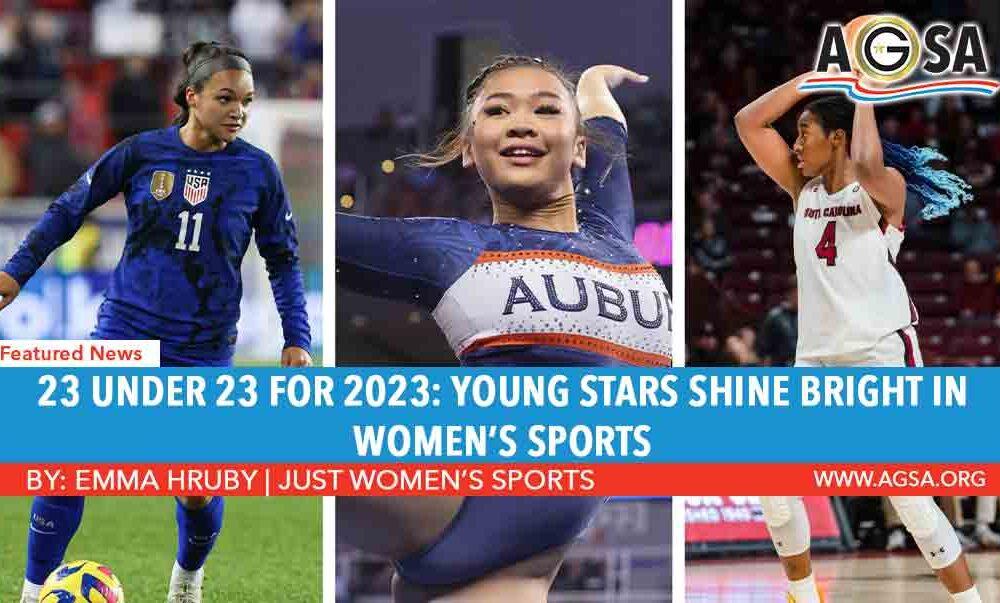 By: Emma Hruby | Just Women's Sports
From NWSL MVP Sophia Smith to Olympic gymnast Suni Lee, from college basketball star Aliyah Boston to world-class runner Athing Mu, the future of women's sports looks bright.
As we enter a new year, Just Women's Sports takes a look at 23 athletes under 23 years old who we expect to shine in 2023.
One note: The list is limited to American athletes. So while athletes such as Germany's Lena Oberdorf, Australia's Ariarne Titmus and more should be considered among the best young stars in the world, they are not included here.
SEASONED PROS
MIA FISHEL, 21 – SOCCER
Why has Fishel not earned a call-up to the U.S. women's national team? That question is only becoming more pressing as she continues to make her name in Liga MX.
One of the brightest young soccer stars, Fishel became the first foreign-born player to win the league's Golden Boot with 17 goals for UANL Tigres. She also helped lead the Tigres to the Liga MX title. Fishel's abilities — and her potential — made her an easy choice for this list.
NAOMI GIRMA, 22 – SOCCER
Girma is the present and future of the USWNT defense. After she was taken No. 1 overall in the last NWSL Draft, Girma had just about as good of a rookie season as one could have. Not only did the San Diego Wave star win Rookie of the Year, she was also named Defender of the Year and earned a spot among the NWSL's Best XI.
She made her first appearance for the USWNT in April. Since then, she's recorded 10 caps and was named to the Best XI for the Concacaf W Championship.
RHYNE HOWARD, 22 – BASKETBALL
Howard had a stellar 2022, which culminated in the WNBA Rookie of the Year award. The No. 1 overall draft pick out of Kentucky in April, she became the lone rookie to earn a roster spot for the All-Star game and took Rookie of the Month honors every month from May to August. Howard finished the season at eighth on the scoring list with 16.2 points per game.
TRINITY RODMAN, 20 – SOCCER
For Rodman, 2021 served as a coming-out party, and 2022 continued the celebration. She became the youngest player drafted in NWSL history in 2021 and helped lead the Spirit to the NWSL title that same year. She followed that up with a record contract in 2022, and in August she was named one of 20 finalists for the prestigious Ballon d'Or.
Internationally, Rodman scored her first USWNT goal in 2022 after making her national team debut in February. She just continues to get better, and that shouldn't change in 2023.
SOPHIA SMITH, 22 – SOCCER
Smith is one of the best young soccer players in the world right now. At just 22 years old, she led the USWNT in scoring in 2022 with 11 goals, becoming the youngest player to do so since 21-year-old Mia Hamm in 1993.
In 2022, the Portland Thorns forward also became the youngest NWSL MVP, and she was named MVP of the championship match and as a member of the league's Best XI. And she very well could be adding U.S. Soccer Player of the Year to her list of accolades. As the national team sets its sights on the 2023 World Cup, Smith will be a key piece for the defending champions.
OLYMPIC MEDALISTS
JORDAN CHILES, 21 – GYMNASTICS
After she helped the United States to a team silver at the Tokyo Olympics in 2021, she played a key role in the team winning gold at the World Championships in 2022. She also earned silver medals in the vault and floor exercises. Chiles is one to watch as the 2024 Olympic cycle approaches.
KATE DOUGLASS, 21 – SWIMMING
Douglass put together arguably the greatest individual performance in collegiate swimming history in 2022, breaking American records in three separate events — in three separate strokes and distances.
The Virginia senior followed up that performance by winning three medals at the World Championships, including bronze in the 200-meter breaststroke. At the short course World Championships in December, she won two individual gold medals and seven total medals.
EILEEN GU, 19 – SKIING
Gu stunned the world in 2022, winning Olympic gold in big air and halfpipe while also capturing a silver in slopestyle. Born in the United States but competing for China, she became the youngest gold-medal winner ever in freestyle skiing and became just the second woman to land a double cork 1620 in competition on her first attempt.
As her celebrity skyrocketed, sponsorship deals also poured in for Gu. She finished the year as the third-highest-paid female athlete behind tennis stars Naomi Osaka and Serena Williams, bringing in an astounding $20.1 million, according to Forbes.
TORRI HUSKE, 20 – SWIMMING
After finishing the NCAA season strong, Huske was a member of Team USA at the World Championships in June. There, she won the 100 butterfly in a new American record time for her first individual world title. She also claimed a bronze in the 100 freestyle, and she led all swimmers with six total medals.
She continued that run at the short course World Championships in December, winning seven total medals and topping the podium four times. As the swimming world starts to set its eyes on the Paris Olympics, Huske will be one to watch.
CHLOE KIM, 22 – SNOWBOARDING
Kim had a successful 2022, defending her 2018 Olympic title in the halfpipe at the Beijing Olympics. She scored a 94, well above the rest of the competition, and is eyeing a return for the 2026 Olympics. If she tops the podium again in Italy, she would become the first woman ever to earn three Olympic gold medals in snowboarding.
SUNI LEE, 19 – GYMNASTICS
After she became a household name at the Tokyo Olympics, Lee began her freshman year at Auburn. While there, she won the 2022 national title in the balance beam and placed second in the all-around. She has announced that the upcoming NCAA season will be her last as she plans to return to elite gymnastics, with her sights set on the 2024 Olympics.
ATHING MU, 20 – TRACK AND FIELD
Following up on her stunning Olympic campaign in 2021, Mu continued her run in 2022, winning the world title in the 800 meters. In doing so, she became the first American woman to win the world title in the 800 and the youngest woman in history to win both Olympic and world titles in an individual track and field event.
Mu hasn't lost on the outdoor track since Sept. 2019, a streak that dates back three years. Look for her to continue to dominate the track in 2023.
COLLEGE STARS
ALIYAH BOSTON, 21 – BASKETBALL
Boston's trophy case must be groaning under the weight of all her awards from 2022. She won the national championship with South Carolina, and she was named Most Outstanding Player of the NCAA Tournament. She also won the Naismith College Player of the Year and Defensive Player of the Year awards, the Wooden Award and the AP Player of the Year award.
You name it, she won it in 2022 — except for the ESPY for Best Collegiate Athlete, which went to Jocelyn Alo. But that doesn't take away from Boston's accomplishments. She's also started her senior season with similar success. The undefeated Gamecocks have a good shot at winning back-to-back titles, and that's largely due to Boston.
PAIGE BUECKERS, 21 – BASKETBALL
It's hard to know what kind of year Bueckers will have in 2023, as she will miss all of this season with a knee injury. But Bueckers' capabilities cannot be disputed. Even after missing much of last season with a knee injury, she returned to help lead UConn to the national championship game.
CAITLIN CLARK, 20 – BASKETBALL
Iowa basketball would not be Iowa basketball without Clark. Known for her logo 3-pointers and insane range, she single-handedly has sought to will Iowa to victory multiple times this season.
As a sophomore in the 2021-22 season, Clark became the first women's player to lead the NCAA in scoring and assists. She also had a streak of 19 games with at least 15 points and five assists, the longest such streak in women's basketball. Only Trae Young at Oklahoma has recorded a longer such streak.
AZZI FUDD, 20 – BASKETBALL
In the absence of Bueckers, Fudd stepped up in a big way for UConn to start this season. Before she went down with her own knee injury in early December, the sophomore led the Huskies in scoring with 20.6 points while adding 2.7 assists, 1.4 steals and 1.4 rebounds. She also posted 32 points against a then-top 5 Texas team, tying her with Diana Taurasi for the most points scored by a UConn player against a top-five opponent. And she should be making her return to the court soon.
CAROLINE HARVEY, 20 – ICE HOCKEY
The youngest player named to the 2021 World Championship roster for Team USA, Harvey subsequently made the Olympic and World Championship rosters in 2022. The defender had a stellar run at worlds, recording three goals and five assists for eight points. She's in the midst of her freshman year at Wisconsin, with 25 points — including 18 assists — through 21 games.
TAYLOR HEISE, 22 – ICE HOCKEY
Heise entered her fifth year at Minnesota on a high note. A member of Team USA and the 2022 winner of the Patty Kazmaier Memorial Award, she made her World Championship debut in 2022 with a bang. En route to the silver medal, Heise led the tournament in scoring with 18 points (seven goals, 11 assists) through seven games. She was named Best Forward and tournament MVP.
The Golden Gophers star is not done rolling. Through 19 games this season, she has 13 goals and 21 assists, which puts her on track to beat her 29 goals and 37 assists through 39 games last season.
ROSE ZHANG, 19 – GOLF
Zhang became the first athlete to sign an NIL deal with Adidas in June after she won the individual NCAA title and helped lead Stanford to its second NCAA title. In her freshman season, she broke the NCAA's single-season scoring average with an astounding 69.68.
She received invitations to the U.S. Open and British Open this year, finishing tied for 40th and tied for 28th, respectively. She's topped the world amateurs ranking for two years in a row. Look out for Zhang to make another NCAA title run in her sophomore season.
TIARE JENNINGS, 20 – SOFTBALL
While the spotlight of the 2022 Women's College World Series centered on departing senior Jocelyn Alo, Jennings also continued to make a name for herself at Oklahoma. A two-time WCWS champion, she's twice been named to the All-Tournament team — all in her first two seasons with the Sooners.
She batted .385 and blasted 24 home runs in the 2022 season. Her total of 72 RBI was tied for third in the NCAA. She also excelled in the field, posting a .982 fielding percentage and recording just two errors all season long. During the WCWS, she set the record for RBIs with 15, adding to the Sooners' record-breaking 64 runs.
NEXT WAVE
COCO GAUFF, 18 – TENNIS
When Serena Williams announced her retirement from tennis in 2022, the question became: Who is the future of American tennis? As eyes turned to Williams' final stretch of matches, the answer to that question went on an incredible run of her own.
Gauff rocketed up to a career-high world No. 1 in the doubles rankings in August and a career-high No. 4 in singles in October. The French Open, which came in the same month as her high school graduation, provided the stage for Gauff's first-ever Grand Slam final. She also reached the quarterfinals of the U.S. Open for the first time in 2022. In October, she became the youngest singles player to qualify for the WTA Finals since Maria Sharapova in 2005. While Gauff still has yet to win her first major, the 18-year-old is well on her way there.
HARPER MURRAY, 18 – VOLLEYBALL
The Nebraska volleyball commit was named to our All-American team in December after capping her high school career with an eye-popping senior season. She ended with a .410 hitting percentage and 663 kills. That bumped her career total to 2,245, and she also finished with 1,423 career digs.
Her efforts earned her Michigan's Miss Volleyball title, and she will enter her career at Nebraska as the No. 1-ranked recruit in the country.
ISABEAU LEVITO, 15 – FIGURE SKATING
Levito made her senior international debut in 2022, placing first at the Philadelphia Summer International in her first senior competition. She followed that up by winning gold in her first appearance on the Challenger circuit.
She made her Grand Prix debut at Skate America in October, where she finished second behind world champion Kaori Sakamoto of Japan. She became the youngest American to qualify for the Grand Prix Final since Caroline Zhang in 2007. With her sights set on the 2026 Olympics, Levito will be one to watch this year and for years to come.
U-20 HONORABLE MENTIONS
CHLOE KOVELESKY, 15 – GOLF
Kovelesky became the youngest player to play in the U.S. Women's Open in 2021. In 2022, she placed first in the Portland Classic Amateur Open and qualified for her first LPGA event.
OLIVIA MOULTRIE, 17 – SOCCER
After making her professional debut in the NWSL in 2021, Moultrie scored her first goal for the Portland Thorns in 2022. She won a championship with the club just a few months later, and she soaked in (most of) the celebrations.
JAEDYN SHAW, 18 – SOCCER
Shaw is another teenager who has made a splash in the NWSL. She joined the San Diego Wave in July, she wasted no time, scoring her first professional goal in her first start. She finished the season with three goals for the expansion club.
ALYSSA THOMPSON, 18 – SOCCER
In September, Thompson became the youngest player since Sophia Smith to earn a senior national team call-up. She made her debut with the USWNT in front of a packed crowd at Wembley Stadium in London and finished the year with two caps.
GRETCHEN WALSH, 19 – SWIMMING
Walsh had a breakout freshman season for Virginia, becoming the first freshman ever to crack 21 seconds in the 50 freestyle. One of just two swimmers to break 21 seconds in the meet, she was bested only by teammate Douglass, who took gold. She later won the 100 freestyle with the fourth-fastest collegiate swim of all time.