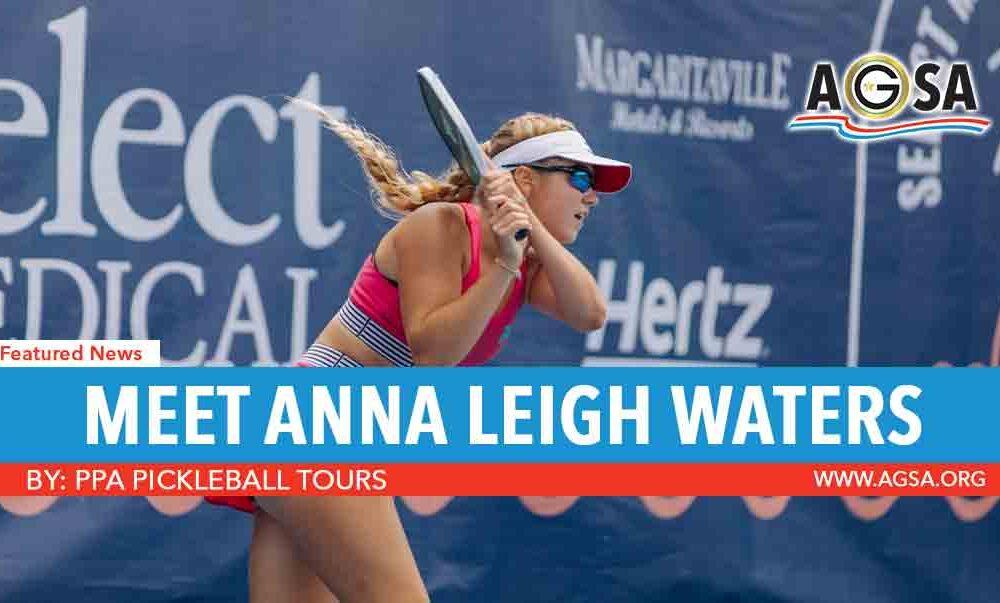 Anna Leigh Waters is Top 5 in the world in women's professional pickleball and competes in all three divisions: Women's Doubles, Mixed Doubles, and Singles. Upon going pro at only twelve years of age, she became the youngest professional pickleball player in history. She partners with her mom, Leigh Waters, and helped develop the two's family trait of "banging" and "ripping" on the pickleball court. When the Waters made their debut in pickleball, they pioneered a new playing style that relies on power and reflex volleys paired with rock-solid defense and resets. Rather than patiently dinking and waiting for their opponents to make a mistake, the Waters prefer to speed things up and muscle their way through points – an aggressive style that has won them a passionate fan base. Anna Leigh Waters is also a fierce competitor when it comes to Singles and Mixed Doubles and generally partners up with JW Johnson, Kyle Yates, or Tyson McGuffin for the latter event.
Waters is a national champion in Women's Doubles, winning her first gold medal at the 2021 Orlando Cup. She also took golds in Singles at the Newport Beach Showcase, the Orlando Cup, and the Texas Open – all in 2021. Waters finished first in Women's Doubles at the Tournament of Champions, as well as at the Margaritaville USA Pickleball Nationals Championship. She is the youngest professional pickleball champion in history, capturing titles at only twelve years of age. She is a bronze medalist in Singles at the 2021 U.S. Open and a silver and bronze medalist (Women's Doubles and Mixed Doubles, respectively) at the 2021 Acrytech Atlanta Open.
Waters, along with her mom, took the whole of 2020 off from pickleball due to concerns about COVID-19, but has lost no time working her way back up to the top since her return to the Pro Circuit in 2021. Waters seems to balance her pro pickleball career, normal teenagerhood, and competitive travel soccer with ease. She is quick to smile and laugh on-court, but her passion and fire leaves no one in doubt about what she wants the result to be. Outside of pickleball, she enjoys soccer, shopping, cooking, and fashion.