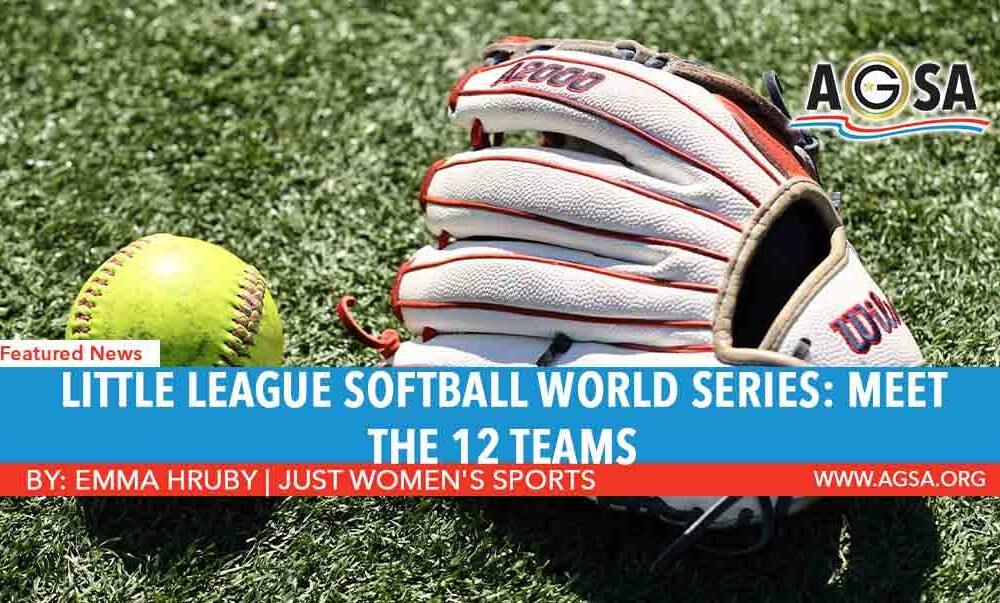 By: Emma Hruby | Just Women's Sports
The Little League Softball World Series begins Tuesday, marking the second year in a row that the event has graced the fields of Greenville, N.C.
For the first time, the competition features 12 teams in a brand-new expanded bracket. A total of eight U.S. teams and four international teams are going for the title.
LLSWS TEAMS
Central: Daniel Boone Little League (Columbia, Mo.)
For the second straight year, Daniel Boone represents the Central Region. The team placed third last year and looks this year to become the first team from Missouri to win the tournament.
Mid-Atlantic: Delmar (Md.) Little League
A newcomer, Delmar recorded 48 runs across four games in the the first-ever Mid-Atlantic Region tournament. The defending state champion is the only team from Maryland to make it to the LLSWS.
Northwest: Issaquah (Wash.) Little League
Issaquah features a one-two punch in star pitchers Shaelyn Erickson and London White. The team went undefeated in its regional tournament to reach the LLSWS for the seventh time.
Southwest: Midway Little League (Hewitt, Texas)
A three-time LLSWS champion from Texas, Midway nearly missed the tournament after losing to Louisiana early in the Southwest Region tournament. The team rebounded in the championship game and aims to win the World Series once again.
North Carolina (Host): Pitt County Girls Softball Little League
Pitt County beat two-time LLWS champions Rowan to claim the first spot in Greenville in early July.
New England: Milford (Conn.) Little League
Another team with a dominant pitching duo, Milford went 4-0 in the first-ever New England Regional softball tournament. With 18 strikeouts over four victories, the team allowed just three earned runs.
Southeast: Chesterfield (Va.) Little League
This year's appearance from Chesterfield marks the seventh time a team from Virginia will make the tournament. It's the second-straight trip to the LLSWS for Chesterfield, which went 3-0 in the regional tournament, including a 4-3 against Rowan (N.C.) in the championship game.
West: La Verne (Calif.) Little League
The 22nd team from California to make the tournament, La Verne scored 30 runs in the West Region tournament and allowed just one. Pitcher Katie Coldiron has been outstanding in the circle, recording 44 strikeouts since the start of district tournament play.
Asia-Pacific: Negros Occidental Little League (Philippines)
The Asia-Pacific champion is trying to become the first team from its region to win the LLSWS.
Latin America: Guayama (Puerto Rico) Softball Little League
Guayama makes its first-ever appearance at the LLSWS and is the first Puerto Rican team to represent the Latin American Region since 2017.
Canada: St. Albert Softball Little League
The Canadian team did not drop a game in its regional championship run and has won 38 total gamest this season compared to just six losses. St. Albert logged two double-digit run games in the regional tournament.
Europe and Africa: Emilia Romagna Little League (Italy)
Emilia Romagna becomes the first Italian team in the tournament since 2019. The group is looking to be the first international team to win the tournament since 2001.
FULL SCHEDULE
Tuesday, Aug. 9
Mid-Atlantic 3, Central 1
Southwest 13, Northwest 4
West 9, North Carolina 2
Asia-Pacific 1, Canada 0
Wednesday, Aug. 10
Southwest 2, Latin America 0
Mid-Atlantic 2, New England 1
Asia Pacific 4, Europe-Africa 1
Southeast 6, West 1
Thursday, Aug. 11
Central 12, Europe-Africa 0 (Europe-Africa eliminated)
West 7, Northwest 1 (Northwest eliminated)
North Carolina 8, Latin America (Latin America eliminated)
New England 4, Canada 0 (Canada eliminated)
Friday, Aug. 12
North Carolina vs. West @ 10 a.m. on ESPN+
Central vs. New England @ 1 p.m. on ESPN+
Mid-Atlantic vs. Asia-Pacific @ 4 p.m. on ESPN2
Southwest vs. Southeast @ 7 p.m. on ESPNU
Saturday, Aug. 13
Game 15 loser vs. Game 14 winner @ 1 p.m. on ESPN2
Game 16 loser vs. Game 13 winner @ 4 p.m. on ESPN2
Sunday, Aug. 14
Semifinal: Game 16 winner vs. Game 18 winner @ 1 p.m. on ESPN
Semifinal: Game 15 winner vs. Game 17 winner @ 4 p.m. on ESPN
Monday, Aug. 15
Third-place game: Game 19 loser vs. Game 20 loser @ 4 p.m. on ESPN
Final: Game 19 winner vs. Game 20 winner @ 7 p.m. on ESPN
All times listed in ET.