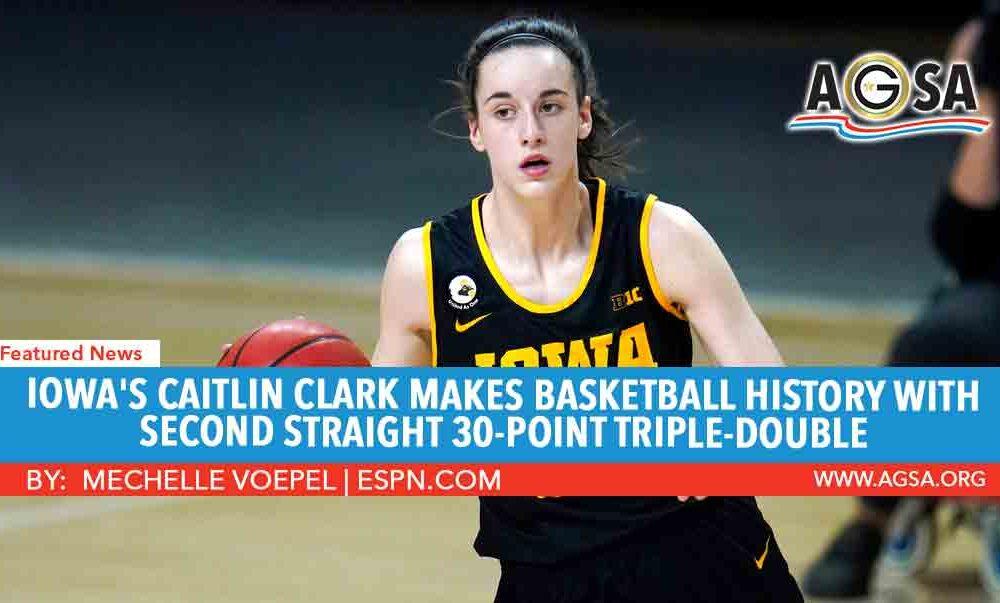 Stat stuffing is a favorite hobby of Iowa Hawkeyes guard Caitlin Clark, who leads Division I women's basketball in scoring at 26.2 PPG. But her history-making past two games were pretty ridiculous even for her.
On Thursday, the sophomore became the first player in Division I basketball history, men's or women's, to record back-to-back triple-doubles while scoring 30 or more points in both games. Clark also became the first player in Big Ten women's hoops history to have back-to-back triple-doubles, and she did it on a night when Iowa got its largest margin of victory ever — 56 points — against a Big Ten foe.
Clark and the No. 25 Hawkeyes carved up Minnesota 105-49 in Minneapolis, Iowa's third-largest victory margin ever. As one of the best point guards in women's hoops history, Gophers coach and former WNBA star Lindsay Whalen, looked on, Clark went to town.
"Caitlin showed why she is one of the most special players in America," Iowa coach Lisa Bluder said.
She had 35 points on 14-of-21 shooting, 13 rebounds and 11 assists. Her rebounding total tied her career high and she scored or assisted on 60 of Iowa's points.
Clark's point total Thursday ties for the fourth most in Division I women's history for a triple-double. LSU's Cornelia Gayden had 43 points in her 1995 triple-double. Long Beach State's Cindy Brown had 37 in 1987, as did Alabama's Daisha Simmons in 2013. Rider's Stella Johnson tied Clark with 35 points in 2018.ADVERTISEMENT
In Sunday's 93-83 victory over Nebraska, Clark had 31 points, 10 rebounds and 10 assists. The 6-footer from West Des Moines, Iowa, now has five career triple-doubles, with four of them coming this season. Clark is the seventh player in Division I women's history to have at least four triple-doubles in a season.
Clark has been struggling with her 3-point shooting this season (24.8 %), but that wasn't the case in Thursday's game, as she went 4-of-6 from long distance, and the Hawkeyes as a team were 9-of-17 (52.9%). They shot 58.8% overall from the field and had a 37-point third quarter.
"We have been telling this team, as soon as we find our 3-point shot, we will be dangerous," Bluder said. "We showed that tonight."
Along with leading the nation in scoring, Clark is also averaging 7.6 assists, second in the nation, and 8.5 rebounds. The Hawkeyes are now 11-4 overall and 5-1 in the Big Ten. And the Iowa native Clark was feeling very good Thursday.
"I couldn't imagine being anyplace else or playing for any other coach," Clark said. "I love her to death, and I hope we can bring her a lot more wins."