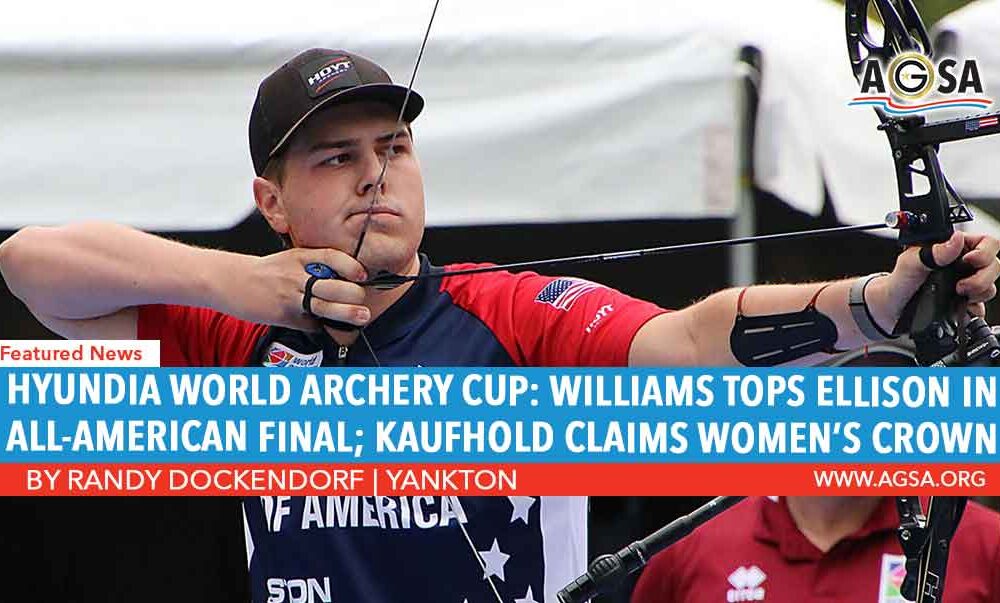 With the Hyundai World Archery Cup held on U.S. soil for the first time, it was appropriate the men's title match was an All-American affair.
Jack Williams of California won a shootout over Brady Ellison of Arizona for the gold medal Thursday at Riverside Park, the last two standing from among the division's eight best men in the world.
Their finale not only guaranteed gold for the U.S. but also marked the first time that the host nation has won the World Archery Cup.
Williams said he felt great about his performance, and winning the gold medal in an All-American final on U.S. soil made it that much sweeter.
"For something like that to happen for the first time, and for me to be that person, is amazing," he said. "For an archery tournament, this was a really good crowd, and it was great to have all these people cheering for us."
The two men weren't the only ones making history for the United States while in Yankton. Last week, Casey Kaufhold of Pennsylvania claimed silver in the women's recurve at the World Archery Championships, the highest finish in 33 years for a U.S. woman in a world championship. On Thursday, she returned for the World Cup finals and fell just short of another medal.
And she's only 17 years old.
"It feels really good to win the silver medal, and it makes it even more special to win it in your home country," she said. "It felt wonderful to have people here supporting me. I have my coach and a lot of teammates here, cheering me on. It was a great atmosphere, and I'm super happy to win."
The Yankton tournament marked the first World Archery Cup held on American soil, which benefited the U.S. delegation and opened the door for Williams and Kaufhold, said Bruce Cull, director of the NFAA Easton Yankton Archery Center.
"Every host country gets four athletes in the World Cup. With Yankton being the host, the United States got those additional athletes," he said. "So really, Jack and Casey got into the World Cup because of Yankton, and as you saw today, they made the most of it."
Williams credited Ellison for coming back to tie and force a shootout. However, Williams kept his composure and claimed the gold medal in the one-arrow tiebreaker.
"I was feeling great," he said. "All the juices were flowing, and I felt very comfortable and ready."
Williams, who competed in the Olympic Summer games, made the most of his World Cup berth as a slot for the host nation.
"I took silver in Paris, but it didn't give me enough points because I didn't go to enough tournaments," he said. "However, I was able to get into the World Cup as a member of the host country. Once that happened, I knew I was just as good as the other competitors. And I knew everybody else who was here."
Thursday's gold medal and total paycheck of about $30,000 was all worth it, he added.
"This is the biggest win I've had, but you have the same pressure everywhere you go," he said. "At the last five tournaments, we've had most of the same people, so that part isn't any different."
Ellison entered the World Archery Cup final ranked first in the world, and he was just back from the Olympic Summer Games in Tokyo. He has won 77% of his matches and overall has won five World Cup titles.
He showed disappointment in falling short of another title but expressed no regrets about his performance. He credited Williams with an outstanding performance that made the difference.
"I had a couple of them I really thought (scored higher on the target), but that's the way it goes," Ellison said. "I'm still super happy. I thought I shot really well, but Jack shot awesome all day.
While he took home a silver medal, Ellison indicated the real prize awaited him after the match.
He was greeted by his wife and fellow archer, Toja, and their 10-month-old son, Ty. During the championship match, the toddler let out a squeal of delight, which apparently caught Brady's attention and brought a brief smile from him. The archer maintained his composure, hitting a sweet shot within the 20-second time limit.
Backstage, he hugged his wife and lifted up his son.
"This little guy is awesome," Ellison said. "It's definitely been a huge challenge figuring out how to schedule around this little guy. But at the end of the day, the biggest thing is having him around us."
For Kaufhold, the time in Yankton — both now and in past competitions — has been enjoyable and literally rewarding with the silver medal, she said.
"It's been good, all the times I've been here in Yankton," she said. "When I was here before, it was a shorter stay and indoor events. I didn't have much time to look around the city. This time, I had a rental car. Yankton is a small town but has a lot of good things."
Kaufhold was glad to earn a spot as a member of the host nation, noting it opened the door for another American. She said she learned a great deal competing at the Summer Olympics, and she like competing in back-to-back tournaments in Yankton.
Not only did she not need to travel to different venues, but the two-week stay in Yankton also gave her familiarity with the setting.
Her silver medal in the World Archery Championships and competition in the Archery World Cup provided another platform for female athletes. In archery, the men and women will compete side by side on mixed teams or at the same tournaments.
"I think, as the years go on, we're seeing the gap between men and women start to close," she said. "The women are hitting the 9s and 10s (on the target), and our scores are getting higher and the same as the men."
Kaufhold started her professional archery career at age 13 and has quickly built up her performance and resume while still a high school senior.
She doesn't look at her youth as a factor in making a splash on the world archery stage.
"I started very young, and I see it as a matter of putting in the same amount of work as everybody else," she said.
Kaufhold looks forward to completing high school as normal as possible during the pandemic, although she is headed to Colombia for a meet during Thanksgiving.
She has her sights set on getting accepted on the powerful Texas A&M team for college, but she will continue competing in the World Archery circuit.
She's also preparing for the trials for the 2024 Summer Olympics in Paris — and more possible return trips to Yankton for competition.
"I'm really excited about it," she said. "I'm looking forward to learning more and using it in the future."
——
The final winners were Mike Schloesser of the Netherlands and Sarah Lopez of Colombia in the men's and women's compound, and Jack Williams of the United States and Lisa Unruh of Germany in the men's and women's recurve.