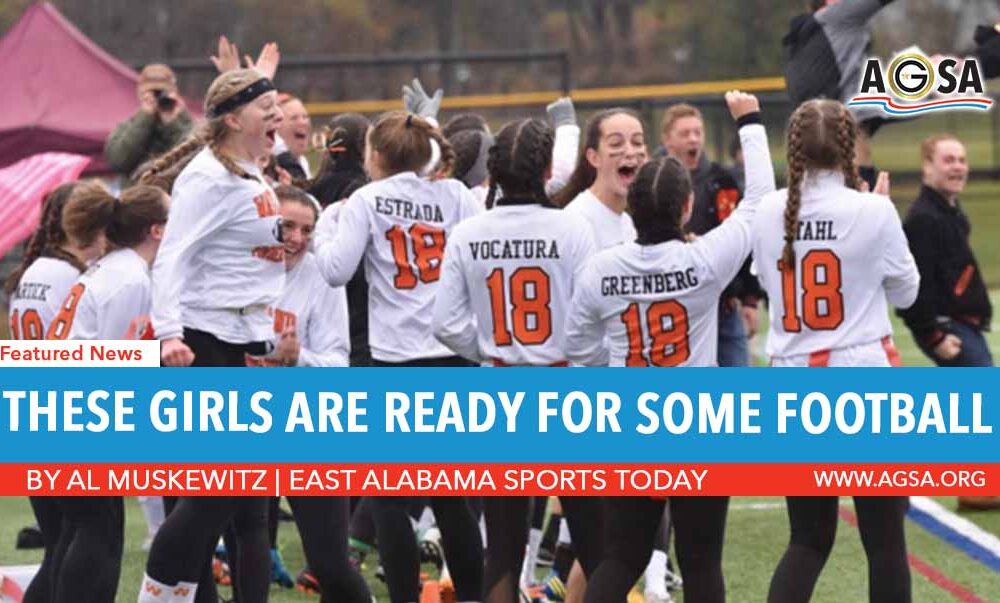 Oxford preparing for its first season of girls flag football, open its season at home Tuesday night

By Al Muskewitz
East Alabama Sports Today
Girls flag football got underway in Alabama this week. Oxford plays its historic first games next Tuesday in a three-team date at Lamar Field.
All of the Lady Jackets' games will be three-team affairs. They play at home twice this 12-game season – Tuesday and the final week of the regular season Oct. 28. A statewide, one-classification championship game will be played the Wednesday of the Super 7.
"It's been fun," Oxford coach Wes Brooks said of the run-up to the season opener. "You think about a girl her whole lifetime thinking what it's like to play football and now they're getting that opportunity."
Nearly 60 schools around the state have declared to play the sport in this first year it's being offered by the AHSAA. Oxford and Anniston are the only teams in Calhoun County on that list, but they will not be playing each other.


"I think it's going to be one of those sports that's going to blossom," AHSAA executive director Alvin Briggs told reporters last month. "We're in a football-crazy state."
Training camp has been a learning experience for both sides. The girls are learning the subtleties of the game from the alphabet soup of the positions to the concept behind the plays and Brooks, the Yellow Jackets' detail-oriented baseball coach, is learning to coach players getting into their sport for the first time.

Even the coach is learning the nuances between 7-on-7 drills of traditional football and flag football, which athletic director Larry Davidson has made the point of saying, "This isn't Powder Puff."

"This is flag football and part of the athletic program and we want to handle it like we do all our other athletes," Davidson said. "We want to be the best we can be at it."

The girls have been quick learners. Besides the work they've put in during practice, they've studied the game by watching Alabama and Auburn football on television a lot more closely than they used to.
"Yesterday was really an eye-opener," Brooks said the other day. "Because some of the girls we had practicing in certain positions and we scrimmaged and they didn't perform and then there were some who we hadn't put a lot of stock in, they really got after it.
"Then we met in the classroom. I told them the classroom is the zoo and our drills are the zoo, but when we scrimmage and play it's the jungle and you've got to learn how to survive. If you don't know what to do use your athleticism. You've got to eat, you've got to survive. That hit home because they had so many questions."
Here is the Oxford flag football schedule:
Sept. 21 at Oxford
Oxford vs. Moody, 6 p.m.
Moody vs. Southeastern, 7 p.m.
Oxford vs. Southeastern, 8 p.m.
Sept. 28 at Homewood
Oxford vs. Homewood, 5 p.m.
Oxford vs. Hewitt-Trussville, 6 p.m.
Homewood vs. Hewitt-Trussville, 7 p.m.
Oct. 5 at Oak Mountain
Oak Mountain vs. Tuscaloosa County, 5 p.m.
Oxford vs. Tuscaloosa County, 6 p.m.
Oak Mountain vs. Oxford, 7 p.m.
Oct. 19 at Vestavia
Oxford vs. Vestavia, 5 p.m.
Oxford vs. John Carroll, 6 p.m.
John Carroll vs. Vestavia, 7 p.m.
Oct. 25 at Southeastern
Oxford vs. Southeastern, 6 p.m.
Oxford vs. J.B. Pennington, 7 p.m.
J.B. Pennington vs. Southeastern, 8 p.m.
Oct. 28 at Oxford
Oxford vs. Hoover, 5 p.m.
Spain Park vs. Hoover, 6 p.m.
Oxford vs. Spain Park, 7 p.m.NEWS TICKER← Previous StoryAll left is all rightNext Story →Donoho county's No. 1