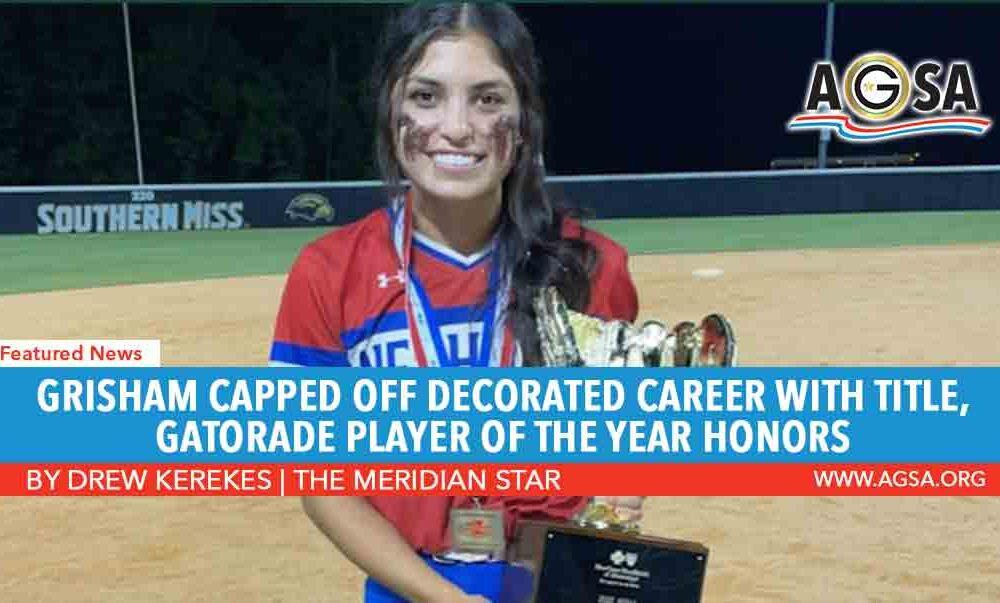 By Drew Kerekes dkerekes@themeridianstar.com
By the time she was a senior this past spring, Neshoba Central's Tenly Grisham was a well-known player in the Mississippi prep softball scene.
An Ole Miss signee, Grisham had been starting for the Lady Rockets since middle school and has won a state championship with the team every year she's played varsity fast-pitch. That was capped off in 2022 with the school's ninth straight fast-pitch title in MHSAA Class 5A.
Grisham hit .531 this past season with a .612 on-base percentage, 45 stolen bases, eight doubles, two triples, one home run, 23 RBIs and 55 runs scored from the leadoff position while manning shortstop for the Lady Rockets. She was named the 2021-22 Gatorade Mississippi Softball Player of the Year and was also a first-team All-State and first-team All-Region 3-5A selection.
Because of her dynamic senior season, Grisham was named the 2022 Premier Preps Softball Player of the Year.
"It's truly a blessing and an honor," Grisham said of earning Premier Preps recognition in addition to Gatorade Player of the Year. "I am grateful for both, and I'm glad to represent my tribe (the Mississippi Band of Choctaw Indians) and school with these prestigious awards."
In 2017, Grisham took over at third base for Neshoba Central when she was only a seventh grader. At the time, Trae Embry was head coach of the Lady Rockets, and current head coach Zach Sanders was an assistant. Even back then, Sanders said Grisham stood out as an athlete.
"We knew something was special about her the first time we saw her walk onto the field," Sanders recalled. "You're talking about a small-statured seventh-grade girl who the ball came off the bat of differently. She was able to play positions unlike any seventh grader you'd ever seen. You really just had to be there to understand."
Sanders said Grisham was second-team All-State in her seventh-grade season, which showed just how much potential she had.
"She was really good as a young player, and she didn't stop at that," Sanders said. "She grew and continued to make it to where she was Gatorade Player of the Year, which is one of the top honors you can get as a softball player in the state of Mississippi."
Even after six years of starting for the Lady Rockets, Grisham said it doesn't feel like six years have gone by.
"If I could go back, I would tell myself to take it all in, have fun and just enjoy every moment because it goes by super fast," Grisham said.
The 2022 Class 5A state championship was the school's ninth in a row (the 2020 spring season was canceled due to the COVID-19 pandemic), and the pressure was always on Neshoba Central every season to keep repeating as state champions.
"We learned to take it one pitch and one game at a time," Grisham explained. "We had to have fun or the pressure was overwhelming. When you have a team that is able to connect with each other, then it's easy to play with no pressure."
As a youth softball player, Grisham looked up to former standout shortstop Hailey Lunderman, a 2015 graduate of Neshoba Central and fellow member of the MBCI. Like Lunderman, Grisham signed with Ole Miss to continue her softball career, and Grisham said she's honored to follow a similar career path to someone she idolized.
"I definitely looked up to her," Grisham said. "She played with so much grit and passion, how could you not want to be like her? It was nerve-wracking at first (batting leadoff like Lunderman did) because she was the greatest to be in that leadoff spot, so I knew I had big shoes to fill. But watching her play year after year, to take the torch was the best honor and feeling."
Now, Grisham will have the chance to represent the MBCI and Neshoba Central at the SEC level, and it's an opportunity she doesn't take lightly.
"Playing collegiate softball has always been a goal of mine," Grisham said. "It's a blessing. Now I get to be a role model to all the young Native girls (who watch me) as well as represent the tribe that has cheered for me all of these years."
Seeing Grisham have so much success is no surprise to Sanders, and he only expects that success to continue at Ole Miss.
"Looking back all the way to when she was in seventh grade, she was just an exceptional athlete," Sanders said. "I would say you wouldn't find a better kid overall athletic-wise, and she's also just a great young lady."