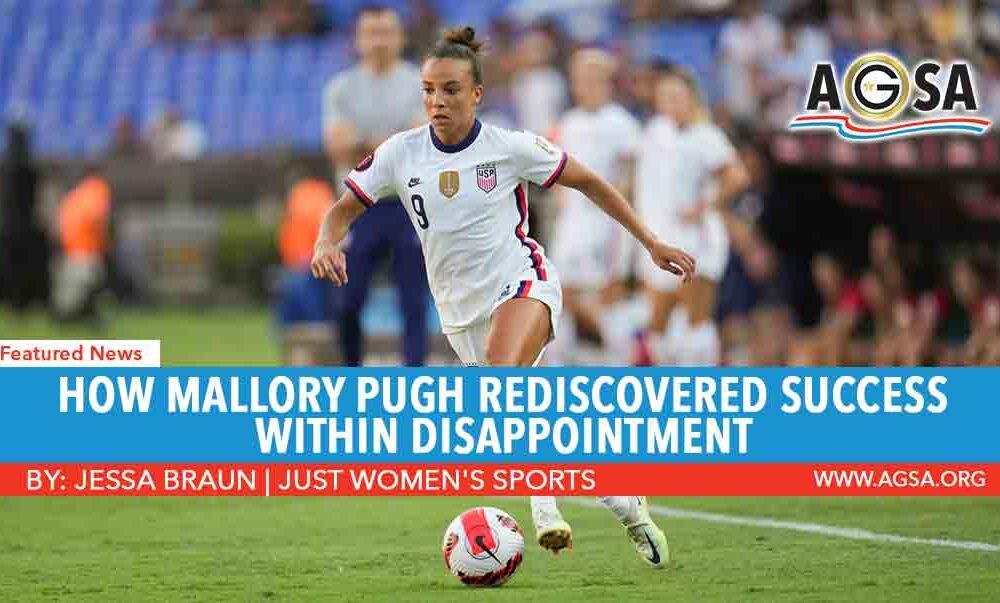 Jessa Braun | Just Women's Sports
A year ago, Mallory Pugh didn't make the U.S. women's national team Olympic roster. Now, over 10 months out from the 2023 World Cup, she's one of the USWNT's most relied upon attackers and is making a case for being the best player in the NWSL.
Currently in fourth place in the NWSL Golden Boot race with eight goals, the 2021 MVP nominee has been widely considered a frontrunner for this year's top award. Across all competitions — the NWSL Challenge Cup, the NWSL regular season and international games — Pugh has 18 goals.
Her secret for rising back to success has been simple: staying present and enjoying every moment.
There's no stopping Mallory Pugh when she's having fun. That joy, after all, is how she became so good in the first place.
Before she was even old enough to play on her own team, Pugh was obsessed with soccer. Having the ball at her feet brought her so much delight that she didn't even care about the rules of the game. She'd tag along to her older sister's training sessions, where she and her dad would kill the hour and a half on an empty field with a full-sized net just up the hill. Pugh vividly remembers the day she kicked the ball over the crossbar.
"No, no," her dad would tell her. "You're supposed to hit it into the goal."
But Pugh didn't care. That was the first time she'd lifted the ball in the air. She was living in the moment, and it was fun.
When she started attending her sister's games, Pugh would sit on the team's bench, intently watching the older athletes and how they played, waiting for halftime when she could tear onto the empty field and try the moves herself.
At 13, she was playing on her own team for Real Colorado. Her talent stood out enough that club president Lorne Donaldson decided to bring her along to Portland, Ore. for the Manchester United Premier Tournament, one of the biggest U-14 tournaments the club could enter into. Pugh was younger and smaller than the others, but Donaldson didn't want her to overthink the opportunity.
"We just gave her the freedom and said, 'Hey, listen, just go enjoy it,'" he said. "That's when we really started to realize she had something special."
As Pugh started dominating her club games, the U.S. youth national program took notice.
Once back home, players from younger Real Colorado teams, like Pugh's future USWNT teammate Sophia Smith, would go to her games just to watch her play.
Pugh rapidly rose up the ranks, all the way to a global stage in 2016. At 17, she made her senior national team debut, becoming the youngest player to do so since Heather O'Reilly in 2002. After scoring her first international goal in that game, she also became the youngest player to make a Concacaf Olympic qualifying roster. She then went on to the 2016 Rio Olympics and, three years later, won a World Cup title with the USWNT.
It appeared there was no stopping Mallory Pugh.
But then it all came to a halt.
At the end of 2020, Pugh was traded to the Chicago Red Stars, her third NWSL team in three years. In January, she suffered an injury in USWNT camp. Summer came, and after some inconsistency on the pitch, she was cut from the Olympic roster.
The decision was tough for USWNT head coach Vlatko Andonovski, who valued Pugh's potential but felt she needed "a wake-up call."
"Not going to the Olympics was devastating and everything for me, but I feel like it was exactly what I needed," Pugh told Just Women's Sports.
Following the setback, she spent a lot of time behind the scenes working on herself mentally and physically as well as on her technical and tactical game. Mostly though, she spent time with her sports psychologist, rediscovering a mindset of staying present and having fun.
Chicago became the perfect fit for Pugh. With the Red Stars, Pugh has the ability to play freely and conquer backlines with her uncatchable runs into the box, where she calmly slots the ball into the bottom corner. The forward can drift where she wants and dictate the attack as needed.
"It's fun for me," she said this week after scoring two goals and making two assists in a 4-0 win over Racing Louisville. "Having the freedom to do that and reading off of everyone as a whole, it's been good."
As someone who went pro right after high school and was introduced to the NWSL through young teams like the Washington Spirit and Sky Blue FC, Pugh is grateful to play alongside other experienced players who help take some of the pressure off. With Chicago, Pugh can focus on just playing, like she did on that field up the hill in Colorado.
"I feel like I've grown into who I was supposed to be as a player and a person," she said. "Deep down, I always knew how I wanted to play and you would see little glimpses of that. But I feel like over the past few years, it's been a learning process of how to get back to that and grow into that."
Enjoying herself and playing arguably the best soccer the world has seen from her, it's easy to assume Pugh might consider this year the favorite of her career, but she's not ranking it just yet. She'll know better at the end of the season, when she's had time to reflect on her growth.
"Last year was one of my favorite years, but I wouldn't say that in the middle of it," she said.
What she can pinpoint is her favorite goal of the season. Against Iceland in late February, thanks to Catarina Macario's defensive efforts in the midfield, she and Pugh broke free in a two-v-two toward the net. They passed the ball back and forth effortlessly through the opponent's half until they were in the box. Macario gave the final touch to Pugh, who one-timed it past the goalkeeper.
Pugh singles out that goal because of the lead-up and Macario's pass, which Pugh described as perfect, but it also symbolized more than that. Andonovski went into that tournament with the intention of seeing how Pugh, Macario and Smith worked together up front. That goal was Pugh's third in two games, and afterward Anondovski described her as the future of the national team, saying a player would have to do something incredible to take her starting spot.
"I'm so happy with Mal's performance," Andonovski said in March after the SheBelieves Cup. "I'm so happy with her form, and I know I was sitting in the same spot a year and a half ago trying to explain what Mal needs in order to be back on the national team … I'm so proud of her, the way she took it. She accepted the challenge and came back and proved that she can do this."
To Andonovski, it's obvious that Pugh enjoys the game more than she did a year ago. With an abundance of new faces on the USWNT, she's also taken on an enhanced role.
Being a verbal leader doesn't come easily to Pugh, 24 years old but already a seven-year USWNT vet. She'd rather leave that part to players like Kelley O'Hara.
"I think it's definitely a learning process, but I also think it's an opportunity to carry on what the national team means," Pugh said. "I think too with the Red Stars, I wouldn't say my leadership style's verbal. I think there's definitely players that are like your captains, who speak to players and stuff, but I would say mine — I don't know — I try and like, play … just setting the standard. Not setting it, but holding the standard and meeting the standard. I think you have to do that first.
"Everyone leads in their own way. To me, I feel like leadership is everyone can be a leader. It's just about doing it first yourself, and then soon people will follow."
On Saturday and Tuesday, Pugh will once again represent the USWNT in Kansas City and Washington, D.C. for a two-game friendly series against Nigeria.
As the U.S. gears up for the World Cup in Australia and New Zealand next summer, Pugh's sights remain set on where they've been for the last year.
"I think the biggest [goal] for me and what I've learned is just to have fun," she said. "Just to enjoy every moment, and every game that we get to play and every training, just being very grateful for that."
Jessa Braun is a contributing writer at Just Women's Sports covering the NWSL and USWNT. Follow her on Twitter @jessabraun.