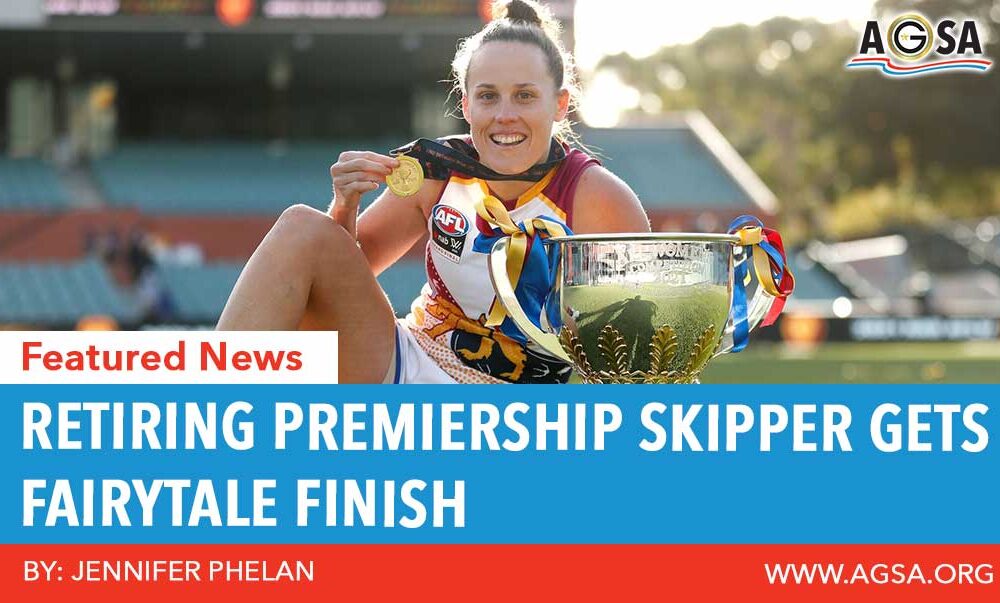 RETIRING Brisbane captain Emma Zielke knew before last week's preliminary final win over Collingwood that a premiership on Saturday would signal the end of her AFLW career.
The 32-year-old told coach Craig Starcevich she would retire on 41 games if the Lions made it into Saturday's NAB AFLW Grand Final – but only if they won it.
"I said, 'If we win, I'm out'," Zielke said, after their 18-point win over Adelaide.
"It was a fairytale ending. The decision was made for me."
https://imasdk.googleapis.com/js/core/bridge3.452.0_debug_en.html#goog_1851872480Play Video
AFLW GF Highlights: Adelaide v Brisbane
06:37APR 17. 2021. 4:10 PM
The Crows and Lions clash in the 2021 NAB AFLW Grand Final
Zielke admitted she didn't know what she would have done if the Lions had lost their third Grand Final and was glad she wasn't in a position where she had to find out.
Instead, she gets to leave the game on the greatest high possible; a premiership captain after three attempts.
2021 AFLW GRAND FINAL Full match coverage and stats
"I just thought I would go out while I was still playing alright footy and keep my pride intact and not get dropped," she said.
"It was getting too much for the old body."
https://imasdk.googleapis.com/js/core/bridge3.452.0_debug_en.html#goog_601349360Play Video
'If we win, I'm retiring': Zielke's fairytale finish
03:32APR 18. 2021. 6:00 AM
Brisbane premiership skipper Emma Zielke speaks about her Grand Final injury and her decision to retire
Share via Facebook
Share via Twitter
Share via copyLink copied to clipboard
Zielke finished the game on the bench after she suffered a high hamstring strain – the first in her life – in the opening contest of the third quarter.
She tested it out in an attempt to return to the field but said she had lost all power in her right leg.
The image of her sitting on the bench distraught as her team attempted to pull away from the Crows summed up how much the game meant to her.
FIVE THINGS WE LEARNED Hodder is made for the big stage, captains curse strikes again
She said she quickly made peace with her fate as the Lions moved to a 22-point lead at three-quarter time and was philosophical about the severity of the injury given she won't play again.
"They put ice on it and I was like, 'You don't really need to'," she laughed.
"I have to get a scan but I don't really need to.
"It's just old age, trying to keep up with the young ones."
Zielke works at Brisbane's Anglican Church Grammar School, where she is the events manager.
While she said the school had been supportive of her AFLW life, she was mindful of the extra hours that would be required next season with an additional game slated for the fixture.
'IT'S JUST PAIN REALLY' Serious foot injury can't stop Lion's GF heroics
She said she was looking forward to having more time to devote to her full-time career and was also keen to venture down the coaching path after completing "all the certificates you can actually do".
"Getting out there and actually coaching now is what I want to do," she said.
"I can't really do that when I'm playing so I want to get into a bit of that and the club is pretty supportive of that."
'BACK OFF' Starcevich slams Kennett over expansion demands
Starcevich said Zielke would be sorely missed after stamping her name into the Lions' history books.
"She's been captain for over five years, the girls love her, the coaching staff admire everything she's done," Starcevich said.
"She's Brisbane Lions to her back teeth, she's the heart and soul of our football club."
Zielke joins teammate Lauren Arnell in retirement, with the midfielder also announcing she played her last game on Saturday.
Why not share? #AFL