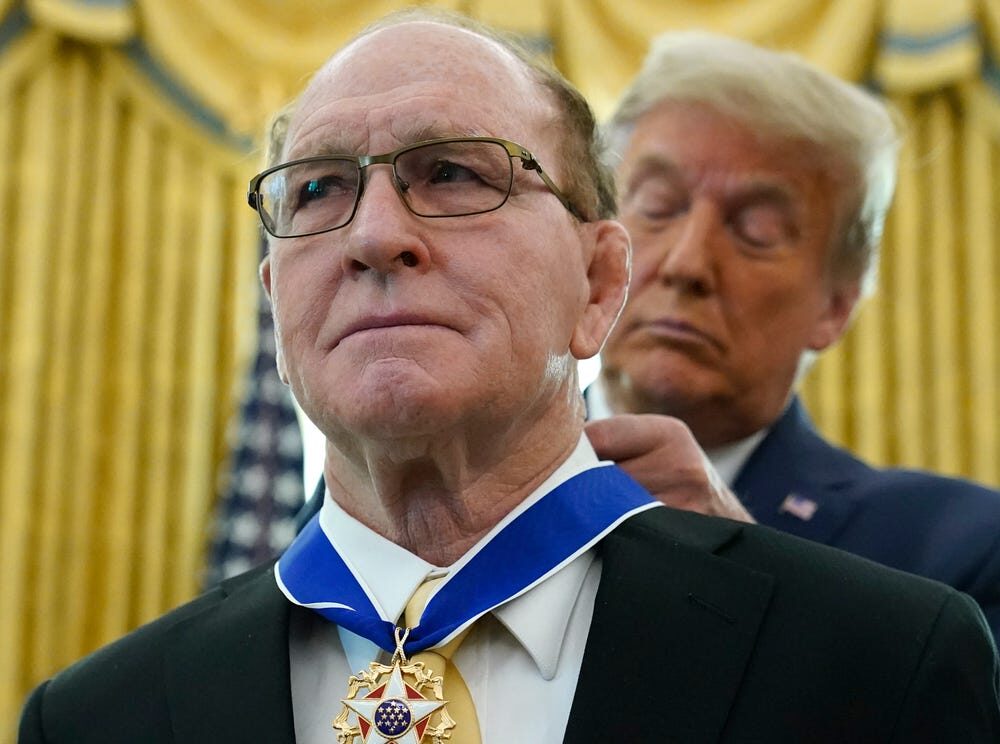 By: Cody GoodwinDes Moines Register
Dan Gable stood inside the Oval Office on Monday afternoon. To his left, President Donald J. Trump rattled off Gable's many wrestling accomplishments: state champ, national champ, Olympic champ, successful coach, relentless ambassador, on and on.
Trump then turned to Gable with a wry smile.
"Now, I'm larger than you, a little bit," Trump said. "Do you think I could take you in wrestling?"
Gable didn't even smile at the idea.
"You would have no chance," he responded, sparking laughter.
President Trump awarded Gable the Presidential Medal of Freedom on Monday, the nation's highest civilian honor. The modern iteration of the distinction was established by President John F. Kennedy in 1963 to recognize extraordinary individuals who have made exceptional contributions to America's national interests, society and culture.
"I wouldn't be here if I had just won an Olympic gold medal," Gable said. "It has been a lifetime of work, learning from others, then taking that knowledge and applying it to others in many ways so that they can perform at their highest and be successful."
Gable is the first wrestler — athlete or coach — to receive this honor. It is meant as an individual award, but for the 72-year-old, it represents so much more.
Gable's whole family made the trip on Monday. His wife, Kathy, stood beside him, beaming. His four daughters, Molly, Jenni, Annie and Mackie, plus their husbands and his 13 grandchildren, filed in behind. He could not have pictured this day without them.