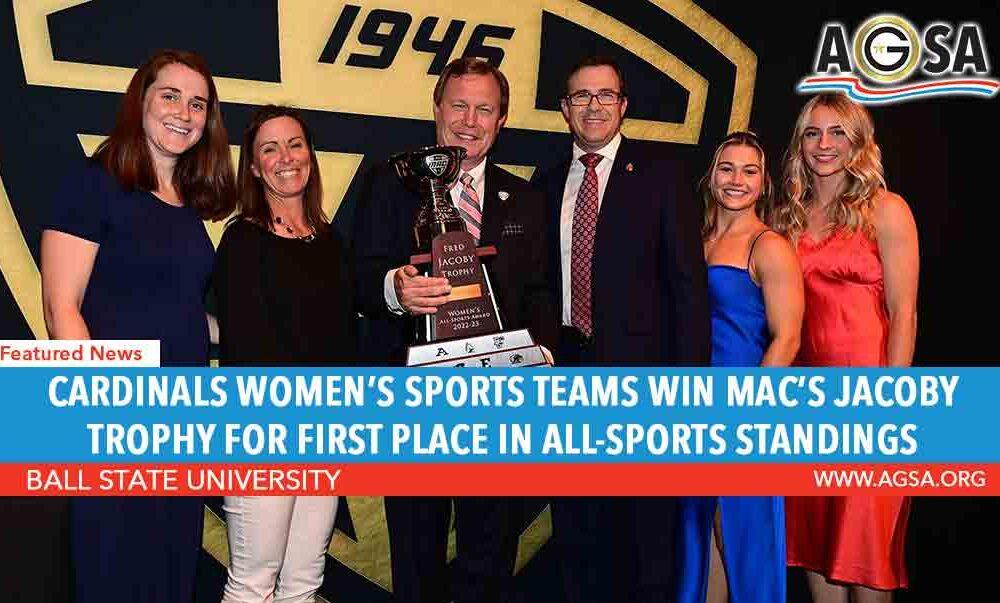 Ball State University
CLEVELAND, Ohio – – Ball State University women's sports teams have been awarded the 2023 Jacoby Trophy, presented annually by the Mid-American Conference to the school whose women's teams win first place in the league's cumulative standings. Ball State men's teams finished second in 2022-23 men's standings, their best standing since 2013. BSU's 1-2 finish for both awards marks the school's best combined finish since 2001.

Bolstered by regular season titles in volleyball, gymnastics and outdoor track, Ball State women's teams edged Miami and Kent State for the Jacoby Trophy title. It is the Cardinals' sixth Jacoby Trophy and their first since 2003 (also won in 2002, 2001, 2000, 1998).

"We are proud to celebrate the athletic accomplishments of our talented female student-athletes who have set the standard for excellence in the MAC this season," said Ball State Director of Athletics Jeff Mitchell. "We applaud our devoted coaches and dedicated staff for establishing programs in which our student-athletes thrive."

Ball State men finished second to Toledo in this year's competition. Cardinals men's teams are four-time winners of the Reese Trophy and this year's runner-up finish is Ball State's fourth (2013, 2001, 1992). BSU men's teams were led by second-place MAC finishes in golf and baseball.

Together, BSU men and women finished among the MAC's top two in their respective all-sports standings for the third time since 1998. Cardinals women's teams finished first, and men's teams finished second, in each of 2023, 2001 and 1998. During that 26-year span, only Ball State and Kent State boast multiple 1-2 finishes for the two league trophies.

Mitchell added: "Winning the Jacoby Trophy and placing second in the Reese Trophy standings reinforces our commitment to make excellence routine as we develop leaders and winners. Today is a great day to be a Cardinal!"

Out of 18 sports who compete in the MAC, eight finished first or second in the league and 10 had teams or individuals reach national postseason competition – including baseball and women's track teams who remain active in NCAA championships.