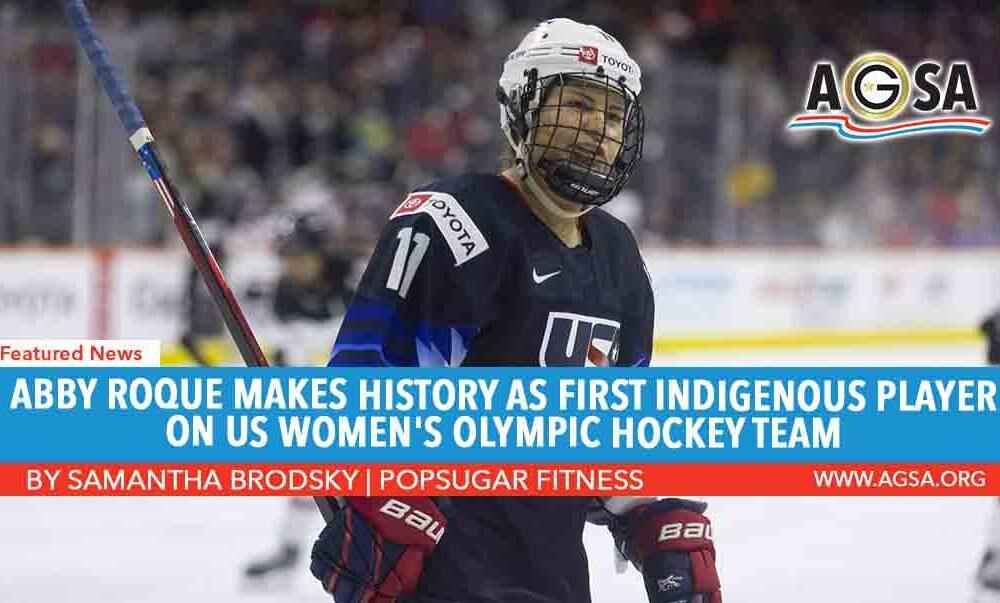 BY SAMANTHA BRODSKY | popsugar fitness
Abby Roque is an athlete to watch at the 2022 Beijing Olympics. At 24, she's a forward for the US's women's hockey team, and her debut Olympic appearance makes history: she is the first Indigenous woman to play for USA Hockey at the Olympics. According to Indian Country Today, Roque, two Canadian women's hockey players, and a Canadian men's snowboarder are believed to be the only Indigenous Olympians competing in Beijing.
Roque, who USA Hockey named the 2020 Bob Allen women's hockey player of the year and who graduated ninth on the University of Wisconsin's career-scoring list, graced the covers of "Sports Illustrated" and Self this month. She told the latter, "Minority players need representation. If you look at a team and just see more of the same white men playing the game, you're not going to get girls involved, you're not going to get young minority players involved. I'm hoping in 10 to 15 years, we'll see a big shift because of the visibility we're trying to create right now. I want to be a piece of that and say, 'I'm here.'"
Roque is a member of Ontario-based Wahnapitae First Nation, of which her uncle is chief. She told Self that she's proud to be breaking barriers in a sport she describes as a "white male club." While she grew up in a community of Indigenous players in Sault Ste. Marie, MI, she says there's still a lack of representation lacks at this level.
"If one little girl says, 'I want to play hockey because she's playing hockey,' I think that would mean the world to me."
"It's a challenge, I know, for a lot of Indigenous kids to get off the reserve or get off the band and move away and fit in," Roque's father, a former hockey coach now working as a scout for the NHL's Toronto Maple Leafs, told CNN. "But Abby was obviously real lucky that she grew up with a lot of kids like that in her town."
Roque is also the only BIPOC player on the US women's hockey roster — a fact that doesn't surprise her. "[N]ot many minority players have had the privilege to play or have felt included. That's something that needs to change in hockey as a whole," she told Self. "And that's why we want to make it more inclusive and make it available to everybody who wants to play."
Roque told CNN, "If one little girl says, 'I want to play hockey because she's playing hockey,' I think that would mean the world to me — just changing one person's trajectory and letting them know that there is a place for them in hockey."
Team USA beat Finland on Feb. 3 in the first round of group play. ESPN reports that Roque replaced assistant captain Brianna Decker after an on-ice injury took Decker out of the Olympic tournament. Next up: a match against the Russian Olympic Committee. The single-elimination rounds kick off on Feb. 10, where podium finishes are at stake — and where Team USA hopes to defend its gold from the Pyeongchang Games.