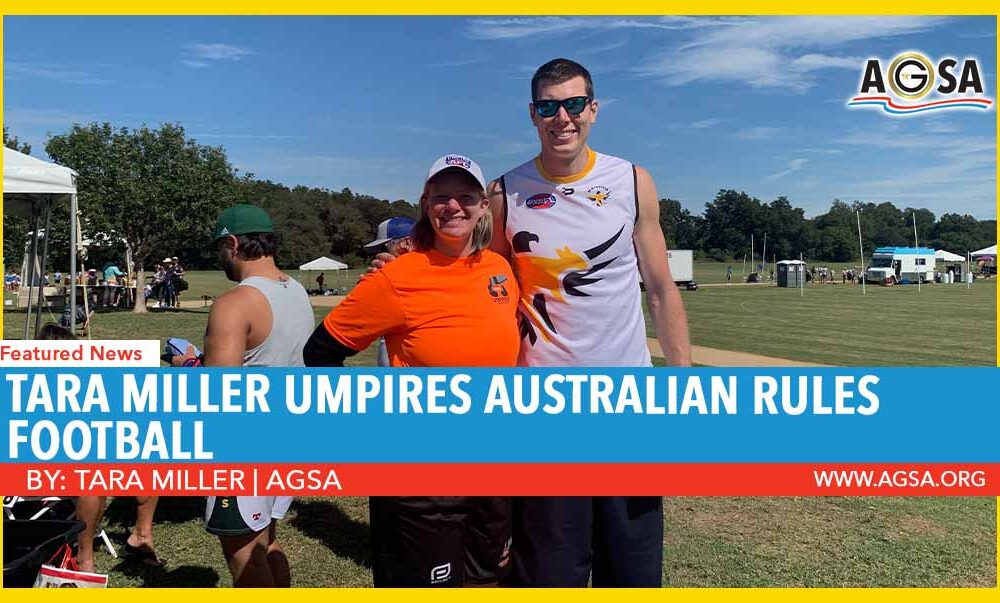 Director of Operations Tara Miller traveled to Austin Texas to umpire in the United States Australian Football League National Tournament.
Despite being new to the sport, everyone involved in the tournament was extremely helpful and welcoming.
If you are looking to get into a new sport, or just want to be a part of a great community, definitely look into Australian Rules Football.
From October 13th to October 17th I had the opportunity to travel to Austin, Texas to help umpire the United States Australian Football League National Tournament. My name is Tara Miller, and I am the Director of Operations for the American Gold Sports Alliance.
Right off the bat, I will say that I knew very little (to almost nothing) about the sport of Australian Rules Football- Footy to those in the sport. Knowing that I was going to help out by being an umpire, I did my fair share of research by reading up on the rules and watching a few matches, but nothing could fully prepare me for what I was going to experience.
Friday afternoon, I was introduced to the team of umpires I would be working with- all of whom had years of experience on me. Even the youngest member (a 12-year-old) knew more than me. I was incredibly nervous. However, my nerves were lessened when I saw just how welcoming and helpful the umpiring group was. They knew that I was a beginner and did everything they could to teach me the ropes.
For those new to the game like I was, there are three types of umpires during a USAFL match. A field umpire who runs the length of the field with the players, calling fouls and awarding free kicks, a boundary umpire who decides when the ball is out of bounds, and a goalie umpire who stands at the goalposts and decides how many points to award a goal or behind. I was learning how to be a goal umpire, of which the main skill is lining yourself up properly as the ball is kicked. After many failed attempts, my instructors decided that I was ready to umpire a game the next day. Of course, I had an instructor behind me for my first two games to make sure I was ready.
Growing up an athlete, I knew just how intense players could be- especially in a national tournament, so being a newbie who had to enforce the rules made me a bit anxious. What if I made a mistake? What if I cost one of the teams the game? What if, what if, what if?
Those worries quickly melted away when I realized two things. One: the players were all incredibly respectful. (Minus a few quips here and there). And two: I had a whole team of people who were on my side and wanted to see me succeed. As a goal umpire, you feel alone. It's your job to decide if the ball passed through the middle or side posts, and your decision overrides everyone else's on the field. So, naturally, at least half of the field will be upset with whatever decision you make. While you are alone, you have your field umpires to help when you're unsure of a call. They can see the panic in your eyes if you were out of position, or the confidence when you know you made the right decision. I always had another goal umpire on the opposite side of the field ready to help me when I gave a point to the wrong team on my scorecard (as I admittedly did too many times), and congratulated me when I made a tough call. It's clear that everyone was there to help, and I truly felt like I belonged in the group, not that I just met everyone a day before.
I loved learning more about the sport and seeing just how much fun everyone had been a part of it. The USAFL community is small, at least compared to some of the more popular sports in the states, but it is by no means lacking in comradery. As I stood between the goalposts, I saw players on opposing teams smile and joke around with each other. They congratulated one another when there was a good play, helped the other up when they were knocked to the ground, and always ended the game with a firm handshake.
If you are looking to get into a new sport, or just want to be a part of a great community, I highly recommend looking into Australian Rules Football. I am so grateful that I had the opportunity to work with these amazing people, and I'm looking forward to seeing them all again. It's truly not a sport to overlook any longer.
If you are interested in Australian Rules Football, you can visit their website at www.usafl.com. To donate to the USAFL Foundation, please visit www.agsa.org/donate.
The American Gold Sports Alliance is a 501(c)(3) Sports Foundation dedicated to identifying, encouraging, and supporting student-athletes to excel at their chosen sport, irrespective of their financial status. We strive to assure that dedicated athletes have the ability to receive the support and opportunities they need to succeed.
Follow Us On Social Media: