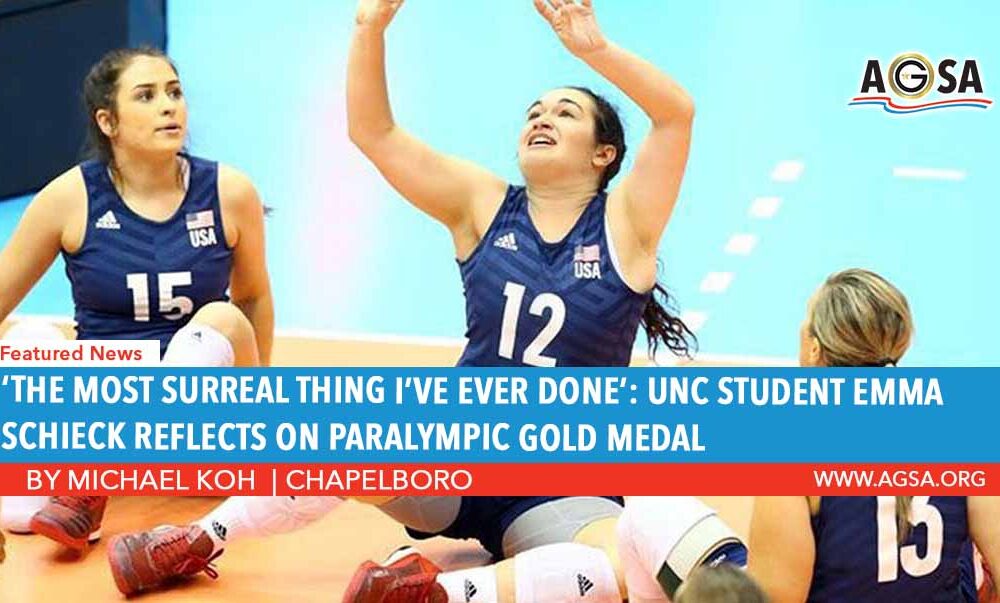 Posted by Michael Koh 
When she returns to Chapel Hill after taking the semester off, UNC student Emma Schieck will have some extra hardware to show off from her time away: a Paralympic gold medal.
Schieck is a member of the United States national sitting volleyball team, which won gold at this year's Tokyo Summer Paralympics. Schieck served the winning ace in the gold medal match against China. What was going through her head when she prepared her final serve?
"To be completely honest, nothing. I hardly even remember it," Schieck told 97.9 The Hill. "I remember the second I realized I was gonna be going in, because my coach had told me a few points before, if Katie [Holloway], number five, our captain, gets back, 'You're going in and serving for her.' And at that moment, I was like, 'Oh crap. Like, don't miss this. Don't mess this up. This is it.'"
Schieck is a junior at Carolina. She said the entire experience of representing Team USA in Tokyo, almost 7,000 miles from her hometown of Statesville, N.C., is one she hasn't fully taken in yet.
"It was the most surreal thing I've ever done," she said. "It's still kind of processing. Honestly, it really didn't hit fully until I got home, and was walking to the airport. And I was like, 'Wait, this just happened. I just did this. This is the experience I just had.'"
Schieck has permanent nerve damage that prevents her from fully straightening or rotating her left arm, but that didn't stop her from playing standing volleyball competitively through high school. Schieck cited a need to prove others wrong as a motivating factor.
"My mom, she wanted me to be a soccer player, because of my arm," Schieck said. "And so, I think doing something I wasn't supposed to be doing was really appealing."
It wasn't until she was 16-years-old that Schieck began to draw interest from the USA sitting volleyball team, who convinced her to attend one of their training camps. Schieck described her initial experience as a "whirlwind" – and at first it wasn't a positive one.
"I honestly didn't like it," she said. "I wasn't a huge fan of sitting volleyball because I felt like it was too hard, at the end of the day. I felt like I couldn't move. My disability, my arm doesn't reach the floor. And so that was really frustrating. I felt like volleyball, which was something that I'd always been good at, and finally become confident in, was being taken away from me."
But with some encouragement from friends, family and coaches, Schieck stuck with the sport. When asked to attend a Team USA tryout, she said she knew this was an opportunity she couldn't pass up. And when she arrived at that tryout, that's when Schieck said the switch flipped.
"My teammates are incredible, and I don't just mean amazing athletes, because they are some of the best athletes in the world," she said. "But they're also just amazing people. And they were so welcoming, and it was the first time I'd really felt like I fit in with a group of people."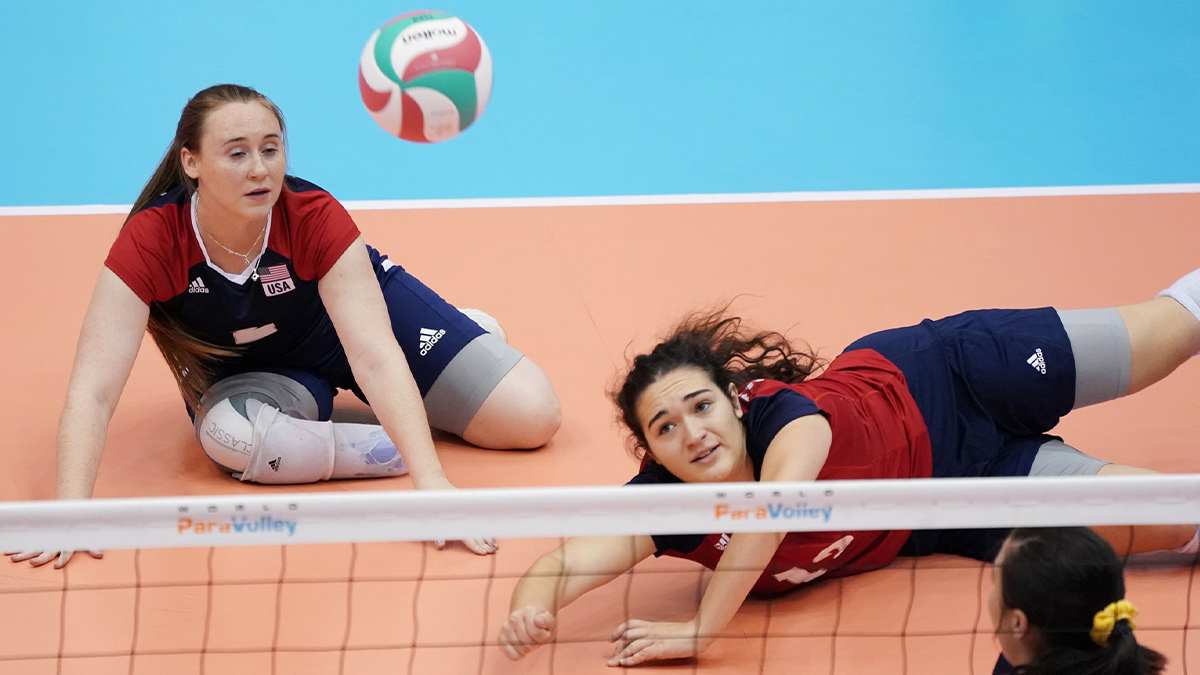 That group of people, along with all Paralympic athletes, deserve as much recognition as Olympic athletes, according to Schieck.
"There's a common misconception that Paralympic sports are 'less than,' or easier," Schieck said. "And you hear similarly about sled hockey and traditional ice hockey. People need to understand that Paralympic sports should be watched. Paralympic athletes should be learned about. And you should try Paralympic sports and adaptive sports because they're not just for people with disabilities."
Now that the Paralympics are finished, Schieck said she'll continue training with the sitting volleyball team for other competitions, including the world championships. One of the things she's most passionate about is expanding non-Paralympic coverage of adaptive sports like sitting volleyball, to grow a larger following for the athletes.
As for Schieck's plans for her gold medal?
"I don't know, right now everyone just wants to see it all the time," she said with a laugh. "So I've kind of got it accessible. But I have no idea where it's gonna go. I just know I don't want to mess it up. I'm a bit of a klutz so I'm a little worried about it."
No matter where her gold medal ends up, Schieck's name will forever be in the history books.
Featured image via USA Volleyball