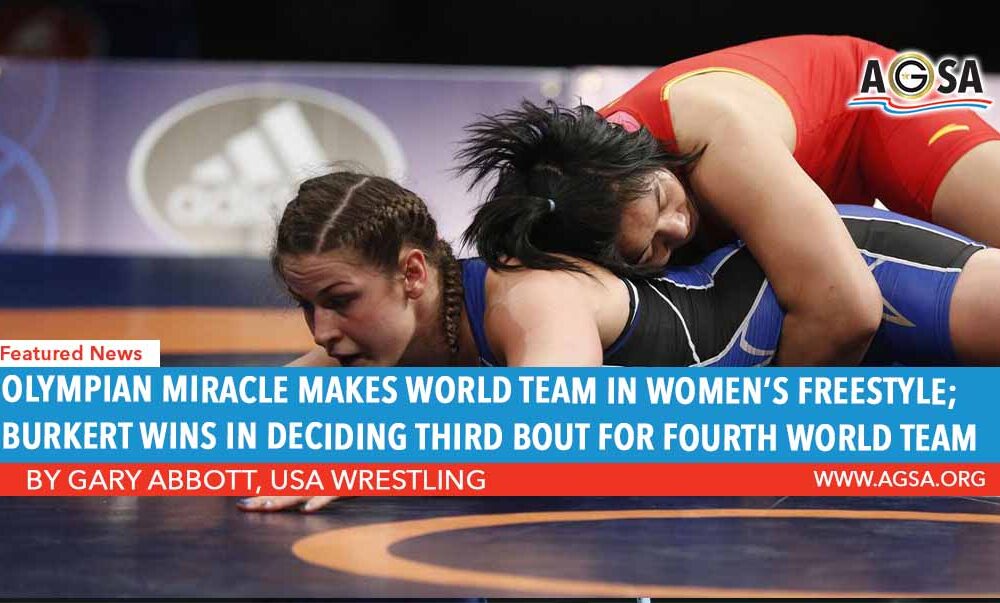 By Gary Abbott, USA Wrestling
Jenna Burkert of Army WCAP celebrates after her stunning win at the World Team Trials. Photo by John Sachs, Tech-Fall.com
Six new U.S. Senior World Team members in women's wrestling were determined during the Championship Series at the Senior World Team Trials in Lincoln, Neb.
The winners join four Tokyo Olympic medalists from the USA to form the 10-athlete team competing in Oslo, Norway, October 2-10.
2020 Tokyo Olympian Kayla Miracle of the Sunkist Kids will also compete in the World Championships in Oslo after defeating 2018 World bronze medalist Mallory Velte in two matches at 62 kg. Miracle won the first bout, 5-3, but was able to open up her offense in a 10-2 victory in bout two. This will be Miracle's second Senior World team, to go along with the Olympic berth.
Making her fourth Senior World Team was Jenna Burkert of Army WCAP, who needed three full matches to defeat 2019 World champion and 2020 Olympian Jacarra Winchester of the Titan Mercury WC at 55 kg. All three bouts were close, with exciting finishes.
With a late four-point move in the first match, Burkert pulled out a 7-6 win in bout one. Winchester powered back with a late takedown in the second match for a razor-thin 9-8 win. Burkert trailed in the deciding third match, but scored a takedown with only a few seconds to go for a 4-3 win and the World Team berth.
Going to a third Senior World Championships is Forrest Molinari of the Sunkist Kids, who had a two-match sweep over Emma Bruntil of the Titan Mercury WC/Bearcat WC at 65 kg. Molinari had to battle from behind to win the first match late, 4-3. In the second match, she came out hard and took early control, cruising to a 9-0 decision. Molinari has placed fifth in the World Championships two times.
Earning spots on their first Senior World Teams were Amy Fearnside of Titan Mercury WC/USOPTC at 53 kg, Maya Nelson of the Sunkist Kids or Megan Black of Army WCAP at 59 kg and Kylie Welker of the Titan Mercury WC at 72 kg
Fearnside was able to break through after a number of years in contention. She earned a close 5-3 win in the first bout against No. 1 seed Ronna Heaton, and followed it up with a pin in the second match in 3:29 to punch her ticket to Oslo.
Nelson, a 2017 Junior World champion, needed just two bouts to defeat Megan Black of the Army WCAP in the finals series. Nelson came through with a 5-4 victory in bout one, but was in control in the second bout, ending it with a pin in 5:13
In a battle of high school super stars and 2021 Junior World champions, Welker defeated Kennedy Blades of the Sunkist Kids in two straight matches. Welker won a tight 4-4 match in bout one, and was leading in the second bout when Blades was injured and could not continue. The two met at the 2021 Last Chance Olympic Qualifier, with Blades getting the victory
Four 2020 Olympic medalists have chosen to compete at the World Championships: Olympic champion Tamyra Mensah Stock at 68 kg, Olympic silver medalist Adeline Gray at 76 kg, Olympic bronze medalist Sarah Hildebrandt at 50 kg and 2016 Olympic champion and 2020 Olympic bronze medalist Helen Maroulis at 57 kg.
Women's freestyle championship series results
53 kg
1st – Amy Fearnside (Titan Mercury WC/USOPTC) dec. Ronna Heaton (Sunkist Kids), two matches to none
Bout One – Fearnside dec. Heaton, 5-3
Bout Two – Fearnside dec. Heaton, 3:29
3rd – Arena Villaescusa (Army WCAP) by forfeit over Alyssa Lampe (Sunkist Kids)
55 kg
1st – Jenna Burkert (Army WCAP) dec. Jacarra Winchester (Titan Mercury WC/USOPTC), two matches to one
Bout One –Burkert dec. Winchester, 7-6
Bout Two – Winchester dec. Burkert, 9-8
Bout Three – Burkert dec. Winchester, 4-3
3rd – Marissa Gallegos (Colorado Mesa WC) pin Amanda Martinez (Cardinal WC), 4:49
59 kg
1st – Maya Nelson (Sunkist Kids) dec. Megan Black (Army WCAP), two matches to none
Bout One –Nelson dec. Black, 5-4
Bout Two – Nelson pin Black, 5:13
3rd – Xochilt Mota-Pettis (Rise RTC) tech. fall Michaela Beck (Sunkist Kids), 10-0, 1:59
62 kg
1st – Kayla Miracle (Sunkist Kids) vs. Mallory Velte (Titan Mercury WC/Beaver Dam RTC)
Bout One – Miracle dec. Velte, 5-3
Bout Two – Miracle dec. Velte, 10-2
3rd – Jennifer Page (Titan Mercury WC/NLWC) dec. Gracie Figueroa (Titan Mercury WC), 8-6
65 kg
1st – Forrest Molinari (Sunkist Kids) dec. Emma Bruntil (Titan Mercury WC/Bearcat WC), two matches to none
Bout One – Molinari dec. Bruntil, 4-3
Bout Two – Molinari dec. Bruntil, 9-0
3rd – Alara Boyd (McKendree Bearcat WC) dec. Skylar Grote (NYAC/Beaver Dam RTC), 7-4
72 kg
1st – Kylie Welker (Titan Mercury WC) dec. Kennedy Blades (Sunkist Kids), 2 matches to 0
Bout One – Welker dec. Blades, 4-4
Bout Two – Welker inj. dft. Blades, 4:02
3rd – Yelena Makoyed (Cardinal WC) dec. Dymond Guilford (Titan Mercury WC/USOPTC), 10-8