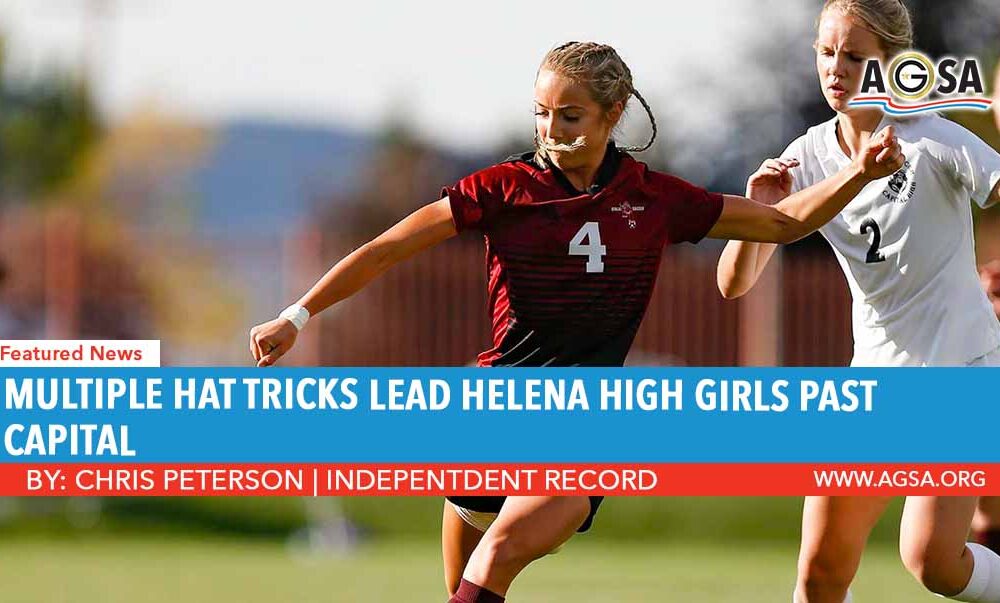 HELENA — Throughout her high school career, Helena High's Rachel Plaster has had a penchant for finding the back of the net.
Prior to Wednesday's crosstown matchup with Helena Capital, Plaster had scored four goals in seven games this season. But against the Bruins, the senior scored four goals, including a first-half hat trick in what wound up as a 7-1 win.
"It was a really fun day," Plaster said after the win. "I think I was just finally playing to play. Instead of looking at stats and things like that. I feel like I got my mojo back a little bit — just playing hard, trying to win 50/50 balls and worrying how to progress the ball. I've had a bit of a mental thing, I just feel like every time I shoot, it's been right at the goalie, but today, I just felt good and I'm just so proud of all my teammates."
One teammate the senior can be particularly proud of is sophomore Avery Kraft, who netted a hat trick of her own on Wednesday.
Kraft started the scoring earlier, drilling home a header on a corner kick in the fifth minute of play. Then, Plaster added two goals of her own on set pieces and another before the half made it 4-0 Helena High.
Just like in the first half, Kraft opened the second half with a goal a few minutes in, and her third goal of the night pushed the Bengals advantage to 6-0.
"That girl knows how to use her head," Plaster said of Kraft who has 14 goals total in seven games this season.
While Plaster and Kraft sparked Helena High, it was a dominant effort all around as the Bengals earned 14 corners and 34 shots on goal compared to just five shots for the Bruins, who got a goal in the second half from Taylor Scout.
That made the score 6-1. However, Plaster got the final word, scoring a fourth time to make it 7-1, a goal that matched her season total, as well as her jersey number.
"The energy that we brought to the first 20-25 minutes really, really was incredible," Helena head coach Mike Meloy said. "It was a stellar performance by everybody."
The Bengals were particularly impressive on their set pieces, converting their 14 corner kicks into four goals, including three in the first 40 minutes.
"If we got one or two of those corners, we'd be doing pretty well," Meloy said. "But to get four is just incredible."
In seven games, Helena now has 51 goals, while surrendering just six. The crosstown win also strengthens the Bengals hold on first place in the Western AA.
Helena came in with 16 points, but now has 19 thanks to six wins, zero losses and one draw this season. Capital (4-3) is still second with 12, although Hellgate is still in the mix too in third with 10.
"Well, we got a taste (Wednesday)," Capital girls head coach Brandon Price said. "So we can prepare for the next time."
A hard-earned result
The girls match might have started with a bang, but in the boys match, which opened the crosstown doubleheader at Nelson Stadium, the Bruins and Bengals battled to a 1-1 draw.
Travis Robertson scored a nifty goal in the first half to get the Bengals on the board and after 40 minutes, HHS led 1-0.
"That was such a great goal by Travis Robertson," HHS head coach Carl Straub said. "I think I'm going to watch that on replay a few more times."
It was Robertson's fifth goal this season for the Bengals and it nearly delivered Helena High three points.
Yet, in the second half, Capital was able to create some scoring opportunities and earned two penalties. Josiah Bibeau drilled home the first to tie the score, however, Helena Keeper Isaac Nehring was able to rise up and stop the second, preserving the 1-1 tie.
Both teams took their shots in the final minutes but when the final whistle was blown, Capital and Helena had to settle for a draw, just like the two schools did in the crosstown opener in 2020.
"What a fun crosstown matchup," Straub said. "There was a lot of physicality and a lot of contact. It was a lot of back and forth which was great for the fans. But I was really proud of our seniors. And that's what it's supposed to be about right? A nice, close, game and chances right until the end."
The Bengals and Bruins entered the day tied for second in the Western AA with 12 points and each will move to 13 following the 1-1 score.
From the Capital perspective, it wasn't what the Bruins were hoping for, yet after a sluggish start, it's at least a result.
"That was really important," CHS boys head coach Stefan Wall said. "We were disappointed with the intensity we brought in the first half. We were better in the second half and having the chance to equalize and really having the chance to take the lead late, is encouraging, but it's just not enough if we are going to accomplish what we want to this season. We can't complain about coming away with points, but we rue the chance we had to come out of here with three today."
Both the boys and girls teams will get a break from action until Next Friday.