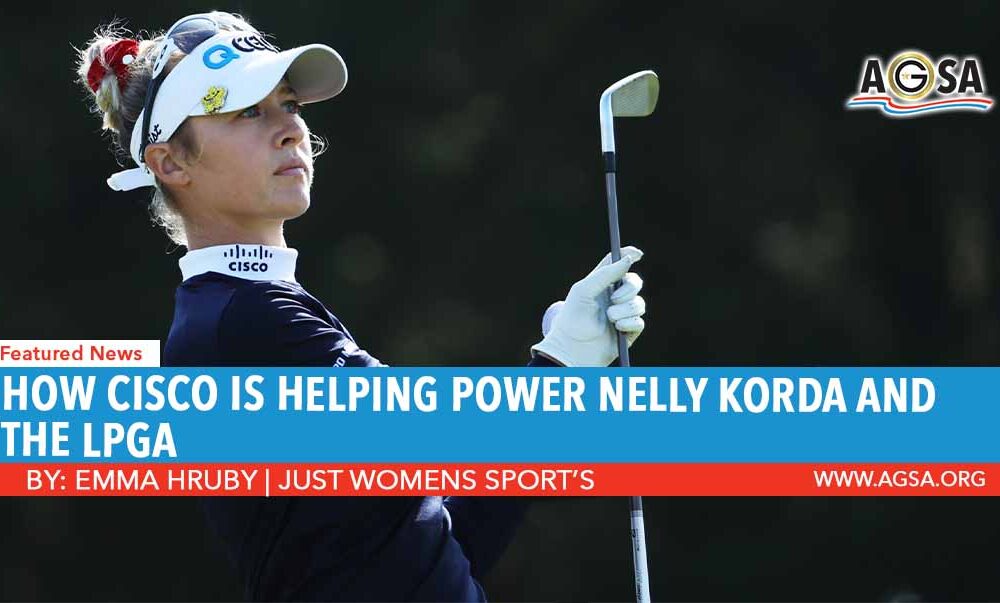 BY: Emma Hruby | Just Women's Sports
Not even Nelly Korda predicted the year she would have on the golf course.
After COVID-19 forced the suspension of part of the 2020 season, Korda has doubled her wins on the LPGA Tour in 2021, claimed her first major title at the KPMG Women's PGA Championship and won a gold medal at the Tokyo Olympics. The 23-year-old enters the Solheim Cup this weekend ranked No. 1 in the world after the most dominant season on tour of any women's golfer.
Cisco has been following Korda's career ascent with pride.
The technology company partners with Korda and eight other golfers across the PGA, LPGA and APGA Tours, creating one of the most diverse rosters of athlete brand ambassadors in golf. When Cisco signed Korda along with older sister Jessica Korda and Danielle Kang in January 2020, she was coming off of a few titles and her first top-10 ranking, but the company couldn't have known how quickly she would rise.
The reputation Korda has built since then is what makes her an ideal representative of Cisco's mission in golf. Through their involvement in the sport, Cisco is committed to creating more visibility for women's golf and ultimately inspiring the next generation of female golfers.
"The last 18 months have truly been a whirlwind," Korda said. "Obviously when I partnered with Cisco at the beginning of last year, no one could have imagined what would come with the Tour being suspended and the world really coming to a halt.
"But to come out of such an uncertain time playing the best golf of my career, and to win my first major championship, become World No. 1 and win an Olympic gold medal all in the last few months is more than I ever could have dreamed."
***
Cisco first began working with the United States Golf Association (USGA) in the fall of 2018 as its Official Technology Partner. As the company's investment in the sport grew, so did its interest in supporting promising golfers who are primed to succeed on the course and share the company's values and corporate purpose to power a more inclusive future for all.
Less than two years after entering the sport, Cisco signed the Kordas and Kang as their first female ambassadors — and have watched them turn into three of the most successful golfers on the LPGA Tour.
Kang, 28, has been a staple on the LPGA Tour since 2011, accumulating five wins and a Women's LPGA Championship. In 2020, Kang won the Vare Trophy, awarded to the golfer with the lowest scoring average on tour that year. She backed up that performance with seven top-10 finishes in 2021 and currently ranks eighth on the tour.
Before Nelly Korda rose up the professional golf ranks, her sister Jessica Korda was already making a name for herself. Now 28, Jessica joined the LPGA Tour at 17 years old and has won six LPGA titles, including the tour opener in January. With four top-10 finishes so far this year, she currently ranks 18th in the world.
In addition to their success on tour, all three golfers want to help grow the game for women, and they appreciate how Cisco is helping realize that vision.
"They're incredible individuals who we are so proud to have represent our brand," Christina Leong, Cisco's Global Sports Sponsorships Manager, told Just Women's Sports. "They share a commitment and a vision for growing the game and inspiring this new up-and-coming generation of golf fans and players through our innovation and technology.
"And that's just as important to us, if not more so, than how they play on the course."
Leong stressed Cisco's vision that people of all ages, genders and ethnicities see themselves reflected in the game of golf, regardless of their background.
That goal goes hand-in-hand with Cisco's commitment to bring the game of golf to more people through innovations and technology, which became especially important throughout the pandemic.
"COVID definitely made us get creative but also really allowed us to make lemonade out of lemons," Leong said. "In such a challenging environment, technology became an even more crucial component in connecting fans, players and media."
That meant, for example, that players still had a piece of their family with them as they teed off at the 2020 U.S. Women's Open, thanks to video messages recorded via Webex by Cisco, the industry-leading video collaboration solution.
When fans were barred from attending tournaments in person last year because of COVID-19, Cisco brought them as close to the action as possible with a virtual grandstand to mimic the feeling of being on the course. Cisco and the USGA also worked together to create a virtual media center that used Webex to conduct pre-tournament and post-round video interviews at both the men's and women's Opens.
This year, Cisco and the USGA brought one of their most unique innovations to the golf course, 4DReplay, which allowed golfers and fans to view a player's swing at 360 degrees. With 88 cameras set up in a ring around the tee box, the video captured enough footage that it could be paused at 34 different points in the motion. Not only could NBC show the technology on their broadcasts, adding to their analysis of players' swings, but fans could watch the clips on demand through the USGA app.
The response was universally positive, with many golfers pushing 4D clips on their social media accounts
Ahead of this year's championship, Cisco also used a mobile cart powered by Webex to surprise young golfers with virtual clinics from San Francisco to San Diego. Golf personality Tisha Alyn hosted the events and Cisco's PGA and LPGA ambassadors assisted in the sessions.
"We are trying to tap into that next generation, having the kids meet some of their favorite players," Leong said. "And they then got these virtual autograph sessions that were hosted on the Webex mobile cart during the actual U.S. Women's Open and U.S. Open."
***
Through all of the trials of the past year, Cisco has remained committed to creating a level playing field for the men's and women's games.
"Cisco's purpose as a company is to power an inclusive future," Leong said. "That means creating equal opportunities for the women's game and empowering diverse groups of people to participate in the game of golf."
Earlier this year, Cisco's sponsorship of the inaugural Billy Horschel APGA Tour Invitational, which featured some of the most promising minority golfers, included a roundtable and seminars aimed at opening doors for players who may not have had those opportunities otherwise.
"We just want to make sure that all genders, all ethnicities, ages and backgrounds are well represented," Leong said. "The more diverse people and backgrounds that we can attract, and the more types of people that are represented, it will ultimately inspire and drive participation and hopefully spark more innovation in the game."
As Cisco levels up its technology every year, treating the men's and women's tournaments equally will continue to be at the forefront of what they do.
"This last year, the women's event looked almost the exact same as the men's, if not better," Leong said. "I think it's just continuing to really push the envelope and ensure that whatever is going to happen at the men's events with technology, it's going to happen at the women's, too."
Cisco's commitment to the women's game, from the inception of the partnership to now, has not gone unnoticed by those on the LPGA Tour.
"It has been so great to be a part of Team Cisco alongside so many other talented golfers," Jessica Korda said. "Cisco's commitment to using their technology to grow the game and inspire a new generation of golf fans and players is something that is really important to me as well, and I look forward to continuing to build on that goal together in the future."
"It's really so meaningful when companies like Cisco step up in such a big way to support our sport," Kang said. "You see a lot of brands that spend money on the men's side, but Cisco makes it a priority to support the LPGA Tour.
"Support like that is really important to us as players, and I truly believe that it helps to inspire even more participation in the sport from the next generation of female golfers."