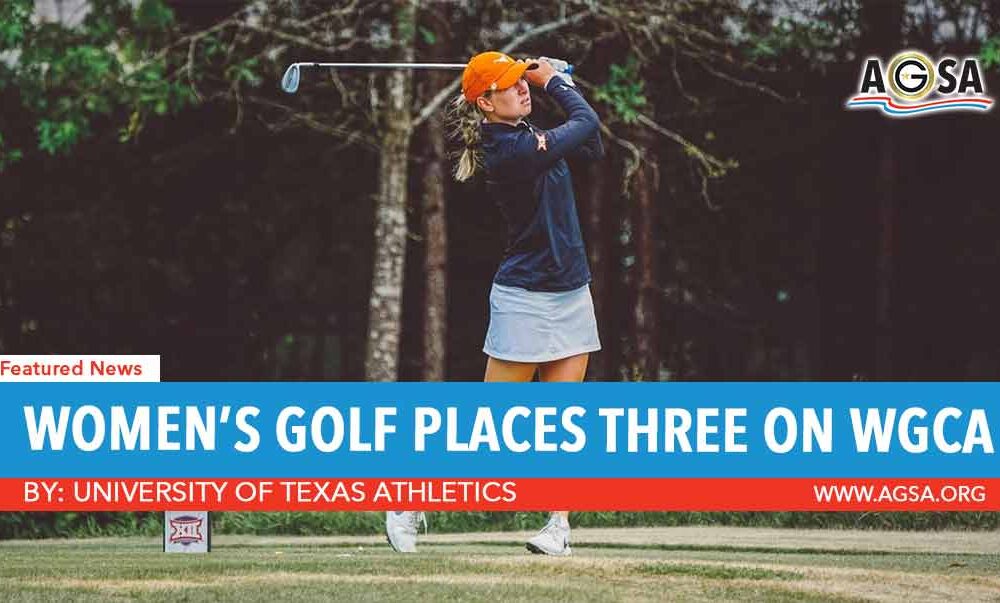 Kaitlyn Papp and Agathe Laisne collected second-team honors while Sara Kouskova received honorable mentions.
AUSTIN, Texas – Texas Women's Golf placed three student-athletes on the Women's Golf Coaches Association (WGCA) All-America teams, which were unveiled this week. Agathe Laisne and Kaitlyn Papp earned second-team accolades, while Sara Kouskova received honorable mention. It was the first career honor for Kouskova, the second for Laisne and fourth for Papp from the WGCA.
Kouskova, a Prague, Czech Republic native, appeared eight times this season and posted six top-20 finishes as an individual. She also earned her first collegiate win, doing so with a 10-under 206 at the Arizona Wildcat Invitational back in March. Kouskova recorded a second top-10 finish with a ninth-place effort at The Bruzzy in April. The junior averaged 72.16 strokes per round, just +0.16 in relation to par for the year. In fourteen of her 25 competitive rounds she shot par or better and finished with the No. 27 national rating on Golfstat.
Laisne, a Paris, France native, appeared seven times for Texas nad posted six top-20 finishes individually. Four of those outings featured Laisne among the top-seven finishers in the field, including a season-best second place finish at the Arizona Wildcat Invitational in March. She shot par or better in 12-of-22 rounds, including six in the 60s for the Longhorns and finished with a 71.82 strokes-per-round average in her final college season. Laisne concluded the 2020-21 campaign ranked No. 16 nationally by Golfstat.
Papp, an Austin native, posted top-15 finishes in all seven collegiate appearances she made this season. Five of those outings were top-10 finishes for the now four-time All-American. Papp's best efforts came when she tied for fourth place at the Betsy Rawls Invitational and at the NCAA Louisville Regional. She averaged 71.10 strokes per round, nearly a full stroke under par on average. Papp shot par-or-better in 12 of her 20 collegiate rounds, including seven in the 60s. She finished with the No. 7 national ranking on Golfstat.