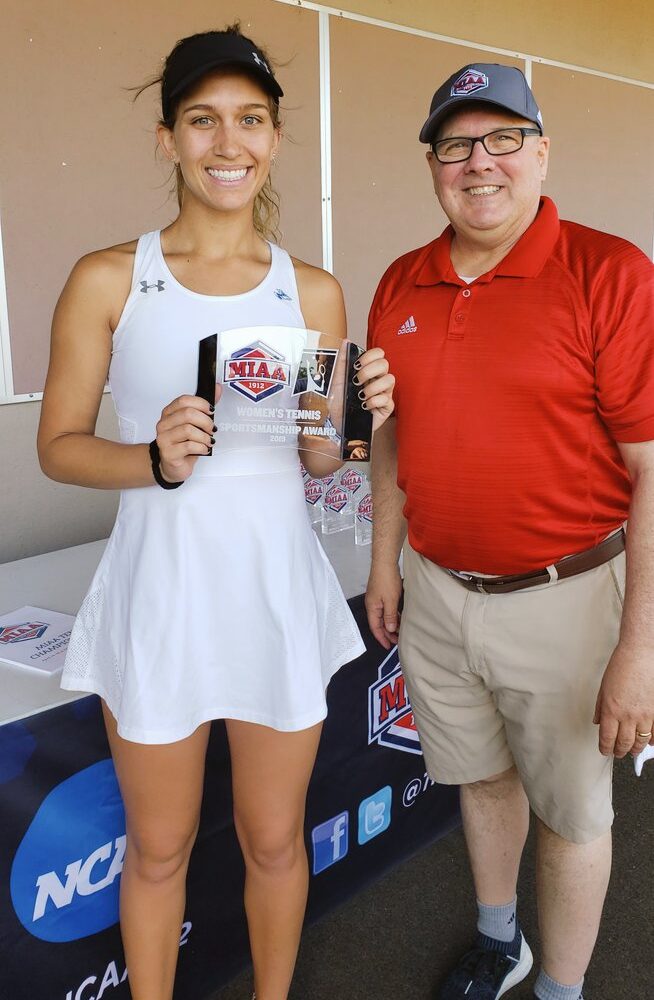 By: MIAA Communications
KANSAS CITY, Mo. – The league office announced today the 2020-21 MIAA Women's Tennis Postseason Awards and All-MIAA Teams. Coach of the Year honors went to Central Oklahoma's Jaron Maestas, Player of the Year accolades went to Central Oklahoma's Adel-Byanu Abidullina and Freshman of the Year was awarded to Central Oklahoma's Mae Canete. The Sportsmanship Award went to Nebraska Kearney's Claire Neil.
The awards were nominated and voted on by all nine league head coaches sponsoring women's tennis.
Coach Maestas has directed the Bronchos to a No. 4 national ranking in the lastest ITA Top 25 poll and a No. 1 seed in the upcoming MIAA Championship April 30 – May 1. Central Oklahoma won its first-ever MIAA regular-season championship with a perfect 8-0 record and 16-1 overall mark. In the first NCAA Central Regional Ranking, the Bronchos are listed amongst six other teams. Maestas has been the UCO head women's coach since 2016.
Adel-Byanu Abidullina, a sophomore from Moscow, Russia, is ranked No. 7 in the latest national ITA ranking. She carries a 14-1 overall record, including 11-1 at No. 1 singles and 3-0 at No. 2 singles, into the MIAA Championship. She is riding a current 12-match singles win streak. She also has teamed up with doubles partner Isabella Dunlap to rank No. 4 nationally on the ITA list. The pair is 12-3 on the year at No. 1 doubles, including a 6-2 mark in the MIAA.
Canete, a freshman fromn Los Angeles, Calif., holds a pristine 15-0 singles record with 11 of those wins coming at the No. 2 position and other four victories at No. 1. She is ranked No. 11 in the latest national ITA ranking. Along with partner Paola Landin, Canete is ranked 11th nationally in the latest doubles listing by the ITA. The duo is 11-2 overall at No. 2 doubles and 7-1 in the MIAA.
Below is the complete list of the 2020-21 awards.
2020-21 MIAA Women's Tennis Awards and All-MIAA Teams
Player of the Year: Adel-Byanu Abidullina – Central Oklahoma
Freshman of the Year: Mae Canete – Central Oklahoma
Coach of the Year: Jaron Maestas – Central Oklahoma
Sportsmanship Award: Claire Neil – Nebraska Kearney
First-Team
No. 1 Singles – Adel-Byanu Abidullina – Central Oklahoma
No. 2 Singles – Mae Canete – Central Oklahoma
No. 3 Singles – Isabella Dunlap – Central Oklahoma, Maria Soler Valverde – Washburn
No. 4 Singles – Paola Landin – Central Oklahoma
No. 5 Singles – Blythe Buntrock – Central Oklahoma
No. 6 Singles – Niki Boyar – Central Oklahoma
No. 1 Doubles – Adel-Byanu Abidullina and Isabella Dunlap – Central Oklahoma
No. 2 Doubles – Mae Canete and Paola Landin – Central Oklahoma
No. 3 Doubles – Nikki Boyar and Blythe Buntrock – Central Oklahoma
Includes Ties In VotingSecond-Team
No. 1 Singles – Vera Alenicheva – Northwest Missouri
No. 2 Singles – Karolina Ström – Missouri Western
No. 3 Singles – Julia Aliseda – Northwest Missouri
No. 4 Singles – Anya Chavez – Missouri Western
No. 5 Singles – Maja Jung – Washburn
No. 6 Singles – Victoria Caster – Northwest Missouri
No. 1 Doubles – Ionna Lathouri and Anya Chavez – Missouri Western
No. 2 Doubles – Vera Alenicheva and Julia Aliseda – Northwest Missouri
No. 3 Doubles – Maria Soler Valverde and Svea Crohn – Washburn
Honorable Mentions
No. 1 Singles – Marta Torres Rodriguez – Washburn
No. 2 Singles – Isabela Bifano – Newman, Maria Popova – Northeastern State, Svea Crohn – Washburn
?No. 3 Singles – Jazmin Zamorano – Nebraska Kearney
No. 4 Singles – Antonia Ramos – Newman, Logan Morrissey – Washburn
No. 5 Singles – Vera Carvalho – Northeastern State
No. 6 Singles – Belinda Jayaprakash – Northeastern State, Cadence Lynn – Washburn
No. 1 Doubles – Logan Morrissey and Marta Torres Rodriguez – Washburn
No. 2 Doubles – Maja Jung and Kinsey Fields – Washburn
No. 3 Doubles – Jazmin Zamorano and Pranathi Gannavaram – Nebraska Kearney, Mirella Cavalcanti and Lauren Esfeld – Newman, Tessa Kwakernaak and Kaylyn Chleborad – Northwest Missouri
Includes Ties In Voting