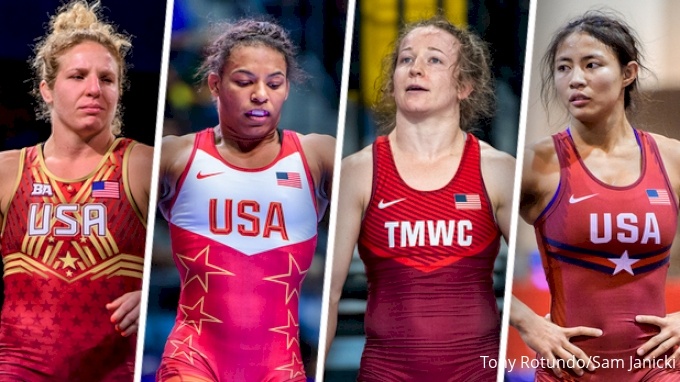 By David Bray, Flowrestling | Dec. 11, 2020, 3:14 p.m. (ET)
Pandemic season continues to create matches we might not otherwise see, and the women's matches at the 150 lb 8-Man Challenge will offer two more. We'll see Jacarra Winchester, the #1 ranked wrestler in the US at 53 kg take on Lauren Louive, #4 at 57 kg as well as Amy Fearnside, #4 at 50 kg vs Tiare Ikei, #7 at 53 kg.
Jacarra Winchester vs Lauren Louive
World champion Jacarra Winchester will compete in her first match since the Pan Am Olympic Games Qualifier where she qualified the US for the Olympic Games at 53 kg. She was a world champion last year at 55 kg but earned the right to represent the US at the Pan Am event by winning a special wrestle-off at the WCWA Championships.
Winchester's opponent on December 18 will be 2020 57kg Senior Nationals champion Lauren Louive. In addition to her impressive performance at Senior Nationals, Louive was also #2 on the US ladder at 59 kg in 2019, falling in Final X to Alli Ragan.
Louive and Winchester do have history. Winchester teched Louive at the 2017 US Open and the 2019 Dave Schultz. It's worth noting that both Winchester and Louive have logged some of their most impressive results since those two matches.
While their history and Winchester's World title make here the favorite, Lauren Louive will have the size advantage, and as she demonstrated in the Senior Nationals finals, she has match-ending big-move potential. This one should be fun.
Amy Fearnside vs Tiara Ikei
The second match we'll see is another catch-weight match, this time between two unfamiliar opponents who are rising stars on the women's wrestling scene.
Junior and U23 World Team member Amy Fearnside is currently ranked #4 at 50 kg, a ranking she earned, in part, by making the 2020 Senior Nationals finals. She had one of the best domestic wins of her career at that event when she avenged a loss to five-time World teamer and two-time World medalist Alyssa Lampe in the semis.
While Fearnside has been climbing the rungs at 50 kg, Ikei, a Cadet World bronze medalist, has been doing the same at 53 kg. In 2019, she won the US Open with an impressive victory in the finals over Katherine Shai. While Shai would go on to beat Ikei at the World Team Trials, that win indicated Ikei's readiness to make noise on the senior level.
The win is especially impressive when considering that Ikei is still Junior eligible. In fact, she just took home a title at 2020 UWW Junior Nationals in November.
A weight class apart, Fearnside and Ikei have yet to compete against one another adding to the intrigue around this match between two serious contenders.