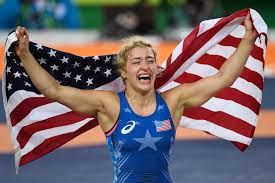 Rio Olympic 53 kg champion Helen Maroulis of the U.S. gave a lengthy interview to United World Wrestling and underscored her desire to compete at the highest level in Tokyo in 2021:
"I always take things one at a time and I always do it to pursue excellence. So, to me, I committed to this goal, I committed to four years. I've been through a lot with all these physical injuries, mental, all this stuff, so for me, I made a commitment and made a decision, so I am seeing this through.
Now recovered from two years of injuries that included a concussion, Maroulis qualified the U.S. for the 57 kg class with a brilliant Olympic qualifying tournament in February 2020, stomping reigning World Champion Linda Morais (CAN) by 12-2 in her opener and then outscored her next three opponents by 26-2. Maroulis still has to make the U.S. team, but was asked about the difficult field she could face at 57 kg in Tokyo, including Japan's Risako Kawai, the reigning 57 kg World Champion. Maroulis was unafraid:
"This is my dream come true, right? When you think about winning Olympic gold, it's not just like you want the medal for the sake of the medal, , you're like, I want it to be the toughest competition because the point of being the best is you want to know that you beat everyone else who you think is incredible."
Off the mat, she shared her new interest in salsa dancing, where she is learning a lot and said, "I enjoy it just as much as wrestling." Is that in her future? Maybe, but she also sees herself giving back to wrestling as a coach, helping others to learn as she has.
More on Helen:
https://unitedworldwrestling.org/article/uww-live-helen-maroulis-usa-rio-olympic-champion
https://www.si.com/olympics/2020/07/31/helen-maroulis-brain-trauma-injury-recovery-tokyo-olympics